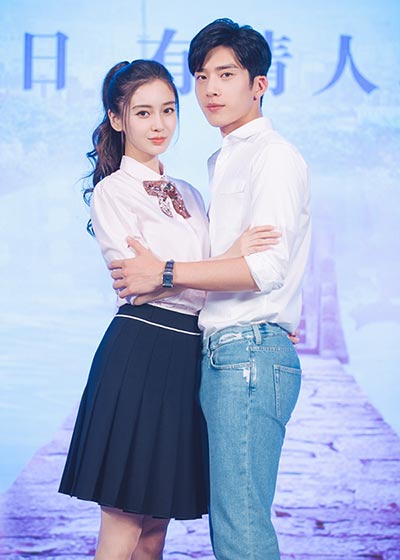 Actress Angelababy and actor Jing Boran. [Photo provided to China Daily]
Love O2O
, adapted from the author Gu Man's namesake best-selling novel, will open in Chinese mainland theaters on Aug 12.
The fantasy romance feature stars Angelababy and actor Jing Boran, who is known for one of China's highest-grossing films, Monster Hunt.
Switching between a digital world and real life, the tale revolves around two video-game players, who develop their romance from online to offline.
Although receiving kudos for her tough alien-fighter role in the Hollywood blockbuster Independence Day: Resurgence, Angelababy said she will focus more on domestic titles. Initially attracted by the script, she said she had intentionally indulged in online games to psychologically understand her new role.
"I once played a game continuously for 12 hours. To those players you've rivaled or teamed up with, you'll be really curious to meet them personally," she said last week.
Jing, who once partnered with Angelababy in the 2010 romance film Hot Summer Days, said the film reflects the changing social lives for the youngsters.
"More and more people are relying on the internet to communicate. I believe the movie wants to send a message: Even though the online world is fictional, the love could be true," he said.
Related:
Huang Xiaoming and Angelababy spotted in Paris