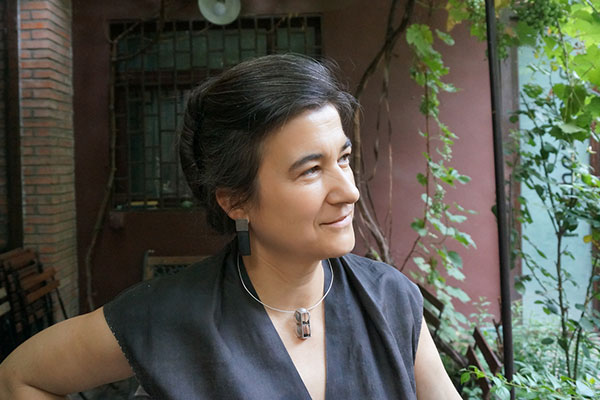 Kathrin von Rechenberg at her workshop in Beijing. [Photo by Ruan Fan/chinadaily.com.cn]
Sixteen years ago, German-born Kathrin von Rechenberg left Paris, where she used to work for luxury brands like Chanel, Christian Dior and Christian Lacroix. She didn't leave to make a fortune.
In search of a particular kind of material called tea silk, she came to Shunde, a small city in South China's Guangdong province. She didn't come for fame.
A piece of clothing is a piece of art, and she is the artist, Rechenberg said. And that's why she spent decades to live out her philosophy of making durable art clothing that appreciates with time.
Clothes should be like fine wine
Rechenberg discovered her passion for making clothes at a very young age.
She would take her friend's mother's handkerchief to make clothes for her dolls, and at the age of 11, she made her first dress for herself.
She went to a specialized school for three years to hone her skills in clothes making instead of going to college, as she knew this is what she wanted to do all her life.
After clinching the first prize in a clothes making competition in Germany, she won a full scholarship from the top haute couture school, The School of the Chambre Syndicale de la Couture Parisienne in Paris. There, she worked for famous haute couture houses as an honor graduate.
But instead of following in the steps of famous alumni like Yves Saint Laurent and Karl Lagerfeld, she simply quit her job in haute couture houses, and made her way to China in the late 1990s.
While there were a hundred reasons to stay, Rechenberg took only one to leave - "I like the material tea silk so much, and it is only produced in China", she said.
For the last decade or so, she has been focusing on exploring the beauty of this material, and made the material a signature of her own label, Xiangyunsha (or fragrant cloud organza, the Chinese name for tea silk).
Today it remains a cornerstone of her collections.