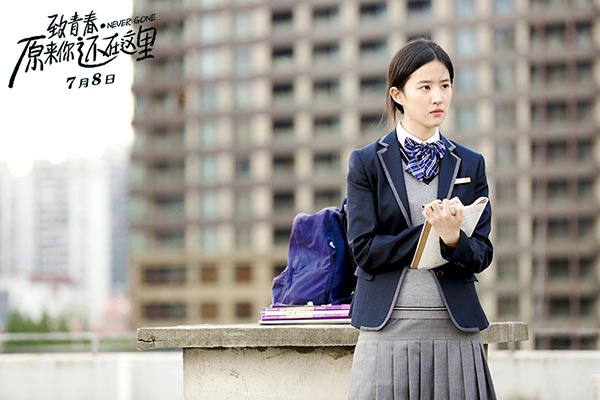 Actress Liu Yifei in Never Gone. [Photo provided to China Daily]
More than one month after being manhandled by a fan, actress Liu Yifei has shown more caution appearing in public events.
When the star was promoting the Sino-French coproduction Night Peacock in Guangzhou on May 19, a man abruptly jumped on the stage. He rushed to embrace Liu, and she fell down heavily on the ground.
Security was upgraded at a recent news conference of her upcoming film Never Gone. Reporters were asked to show their identity cards, and to pass an electronic body-scanning facility. The stage was set apart by an iron fence.
Liu, reluctant to speak about the attack, says the new role gives her a feeling to emotionally travel back to her adolescence. The 29-year-old actress says the movie will remind audiences of their best youth time and the touching moments during puberty period.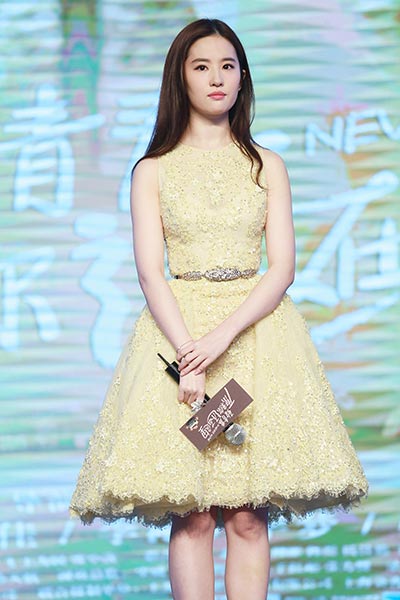 Actress Liu Yifei at press conference of Never Gone. [Photo provided to China Daily]
Adapted from author Xin Yiwu's namesake novel, the feature narrates a pure romance between a couple of high school classmates, who reunite after misunderstanding each other for many years.
The coming-of-age feature, also casting the heartthrob actor Kris Wu, opened to Chinese mainland theaters on July 8.
Thanks to its star power, the film has topped the country's box office charts, raking in 70 million yuan ($10.5 million) on the first day.
Related:
'The Secret Life of Pets' takes lead in box office race
Crime thriller 'Foolish Plans' set to screen in China and North America