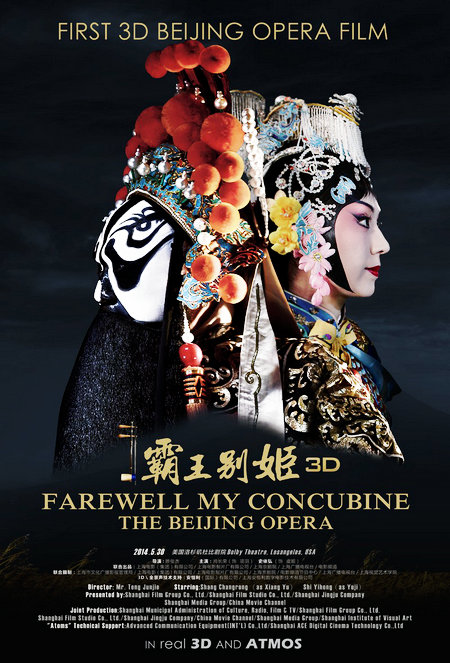 Poster of the 3D Peking Opera film Farewell, My Concubine. [Photo/Mtime]
The 3D Peking Opera film Farewell, My Concubine was screened as an opening work during "Chinese Film Week" at Japan's Tokyo Film Festival on July 5.
The film is the first production to adopt 3D technology to present the Peking Opera on screen.
Guo Yan, minister of the Chinese Embassy to Japan, praised the film as a perfect combination of traditional Chinese culture and modern technology. She says the film is a good example of telling the Chinese story in a nice form, which contributes to the cultural exchange and communication among different nations.
She also hopes the "Chinese Film Week" can further deepen the relations between people from the two countries and boost mutual cooperation in film production.
As one of the first offerings as part of the "Peking Opera Films Project", the film stars celebrated Peking opera performers Shang Changrong and Shi Yihong.
"Peking Opera is performed on the stage and it looks different in the film. To present the performance in the film as good as on the stage, Shang and I need to adjust our gestures in many close shots," Shi said.
The household Peking Opera Farewell, My Concubine has had dozens of music, film, TV and novel adaptations. And the 3D production is a new attempt.