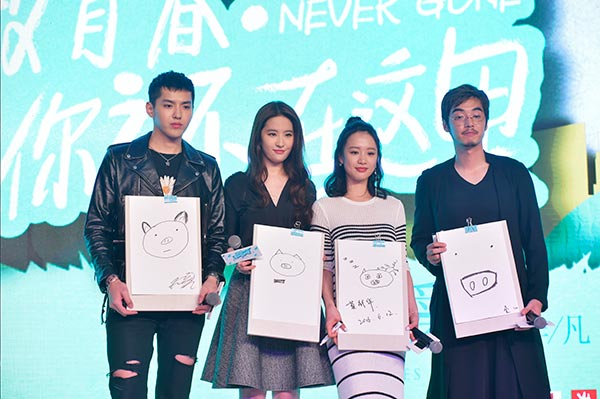 Actor Kris Wu (left), Liu Yifei (second from left), Li Meng (second from right) and Ji Shijia. [Photo provided to China Daily]
Even burdened with a recent scandal, Chinese-Canadian actor Kris Wu is still among the most prolific stars this summer.
His latest coming-of-age romance, Never Gone, will hit Chinese mainland theaters on July 8.
The feature is a sequel of the 2013 smash hit So Young, which has ushered in a boom of big-screen productions adapted from youth novels.
The first film, also the directorial debut of veteran actress Zhao Wei, raked in a record 730 million yuan ($111 million) in 2013. Its stunning market performance made investors realize the genre could be so lucrative.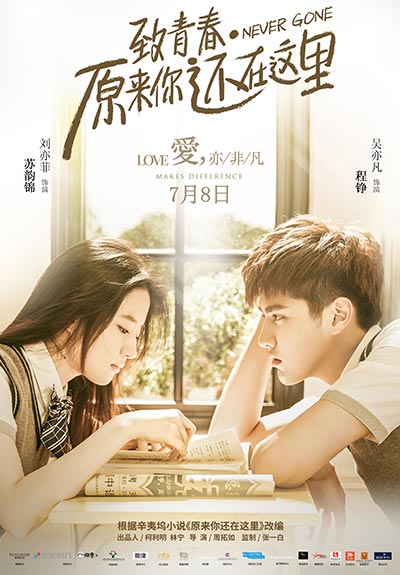 Poster of film Never Gone. [Photo provided to China Daily]
Director Zhou Tuoru says the new tale features "simple and pure" emotion, which convinces readers of the existence of real love.
The stellar cast also includes Liu Yifei, hailed as a "goddess" for her beauty, actor Jin Shijia and actress Li Meng.
Wu, whose Chinese name Wu Yifan is more familiar to mainland fans, has been recently involved in a sexual scandal with a female netizen. The heated online debates show that many fans still support him.
Related: