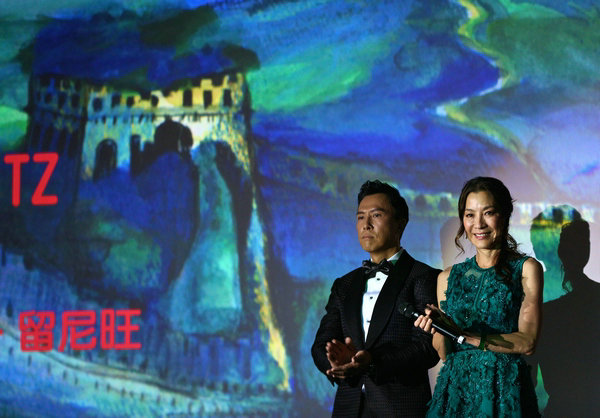 Donnie Yen and Michelle Yeoh at the opening ceremony of the 6th Chinese Film Festival in Paris, June 30, 2016. [Photo/Xinhua]
The 6th Chinese Film Festival in France is being held in Paris this year, beginning with the opening ceremony on June 30.
Chinese vice premier Liu Yandong, Jean-Marc Ayrault, French minister of foreign affairs and international development, Ding Wei, Chinese vice-minister of culture, Tong Gang, Chinese deputy-director of the State Administration of Press, Publication, Radio, Film and Television and some 500 Chinese and French officials, representatives and guests attended the event.
Ayrault notes that film is an important platform for the cultural cooperation between China and France. Both nations should work together to produce more high quality films.
Tong says with the governmental support from the two countries, the cooperation and communication in the field of film making will deepen with more films being produced, which can give a boost to the strategic cooperation between China and France.
The movie showed at the opening ceremony was Crouching Tiger Hidden Dragon II: the Green Destiny. The leading actor and actress of the film, Donnie Yen and Michelle Yeoh, were both present at the event.
About eleven choice Chinese films will be showcased during this festival, including animation, romances and fantasy movies.
The festival will tour other cities in France for some time after its stay in Paris.