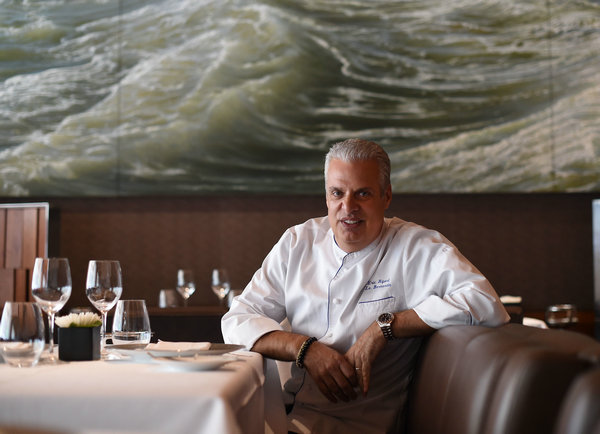 "I always had a passion for eating-and for good ingredients," says renowned chef Eric Ripert who details his rise in his memoir.[Photo provided to China Daily]
Renowned chef Eric Ripert details his ascension from green cook to master in his memoir 32 Yolks
When Eric Ripert turned 18, he had a crisis of confidence. He was working in Paris at the famed La Tour D'Argent, a grueling first step on the journey from his childhood in the mountains of Andorra to where he is now - one of the most admired chefs in the world, leading Manhattan's elegant Le Bernardin for more than 20 years.
But one day, it occurred to him that perhaps he should be a fashion model instead.
"I had finally started dating," he explains with a grin. "And a girlfriend said, 'Wow, you're good-looking, you should be a model!"
Ripert's mother back in Andorra, a tiny principality between Spain and France, was dismayed. But she had fashion-world connections, and arranged a meeting for her son at the Courreges label. And that's where they put him straight. "Listen," a man at the fashion house told Ripert. "You may THINK you're good-looking, and probably in your home village, you are. But this is Paris!"
It was, Ripert says now, "the shortest meeting I ever had in my life."
Somehow, that anecdote never made it into Ripert's engrossing new memoir, "32 Yolks," which came out last week. But the 51-year-old chef recalled it as he sat down with The Associated Press recently at Le Bernardin and reflected on his arduous climb to the pinnacle of the culinary world. Being a top chef was a dream he'd had since he was a young boy hanging out after school in a local chef's kitchen, polishing off bowls of chocolate mousse.
"I always had a passion for eating - and for good ingredients," says Ripert.
That passion for ingredients had been on display just minutes before the interview, as Ripert prepared for the restaurant's lunchtime opening. His first task was to sample the sauces, as he does each day in his bustling but airy kitchen, staffed by more than 50 cooks. "Too spicy," he had quietly pronounced of the sauce intended for octopus.
"Spicy is good," he explained later, "but what we don't want is to be burned here" - he touched the sides of his throat. The cook in charge of the sauce station was already correcting the situation by discarding half, then adding more and calibrating the ingredients. It's hardly a simple task; the sauce station is the toughest in the kitchen.
"You start with salads and move up in the hierarchy and end in the sauce station," Ripert says, echoing his own training. "In every kitchen it's the most difficult. Because you're basically capturing flavors in a liquid, and that's complicated."
And it's not just about capturing flavors, but by keeping them calibrated all night long. "The last client should have the same taste as the first client. But some ingredients expand, and some die," he explains. "And some are killers, they destroy everything." A drop of lemon juice, for example: "An hour later any other flavor that was with it is dead."