Times fashion photographer Bill Cunningham dies at 87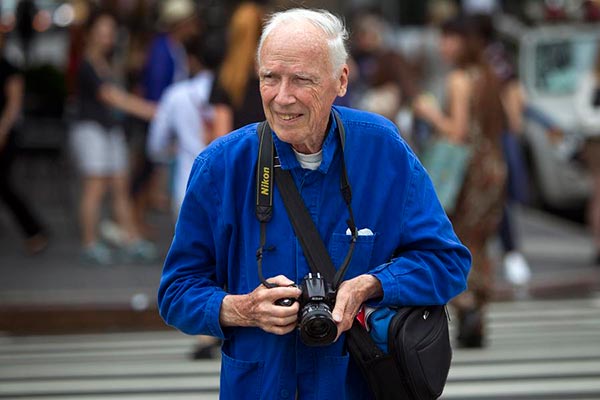 New York Times photographer Bill Cunningham crosses the street after taking photos during New York Fashion Week in the Manhattan borough of New York September 6, 2014. [Photo/Agencies]
Bill Cunningham, the celebrated New York Times fashion photographer known for his shots of emerging trends on the streets of New York City, died on Saturday after being hospitalized for a stroke. He was 87.
Cunningham, known for his trademark blue jacket, a small camera bag worn sideways and his iconic commute tool - a bicycle, was admitted to hospital on Thursday.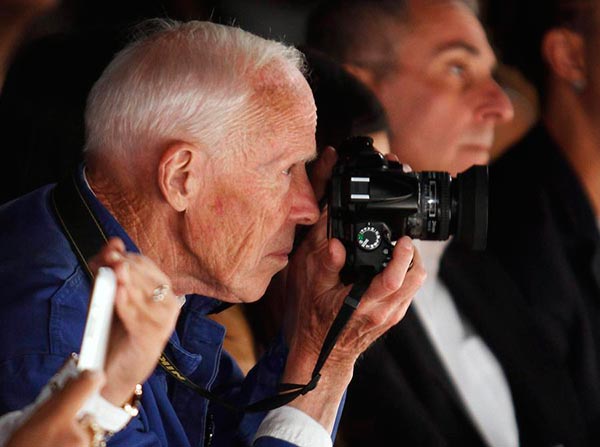 New York Times photographer Bill Cunningham takes photos during the Naeem Khan Spring/Summer 2013 collection show at New York Fashion Week in New York, US, September 11, 2012. [Photo/Agencies]
William John Cunningham Jr was born on March 13, 1929. He moved to New York after dropping out of Harvard, only two months after he was admitted with a scholarship. After serving in the Army, Cunningham wrote fashion coverage for the Chicago Tribune. He started photographing people on the streets, commonly known today as street snaps but still a new concept back then, after he got his first camera in 1967.
Cunningham's snap of actress Greta Garbo caught the attention of the Times and in 1978, the heavily storied newspaper opened a column for him, publishing a series of his street snap photographs.
In a 2002 interview with the paper, Cunningham said he always tried to be as discreet as possible because "you get more natural pictures that way."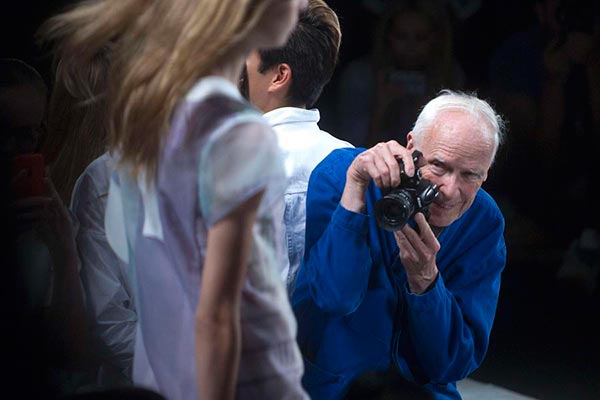 New York Times photographer Bill Cunningham takes photos as a model presents a creation from the Lacoste Spring/Summer 2015 collection during New York Fashion Week in the Manhattan borough of New York, US, September 6, 2014. [Photo/Agencies]
"I suppose, in a funny way, I'm a record keeper. More than a collector," he said. "I'm very aware of things not of value but of historical knowledge."
Times executive editor Dean Baquet said of Cunningham in a statement: "He was a hugely ethical journalist. And he was incredibly open-minded about fashion. To see a Bill Cunningham street spread was to see all of New York. Young people. Brown people. People who spent fortunes on fashion and people who just had a strut and knew how to put an outfit together out of what they had and what they found."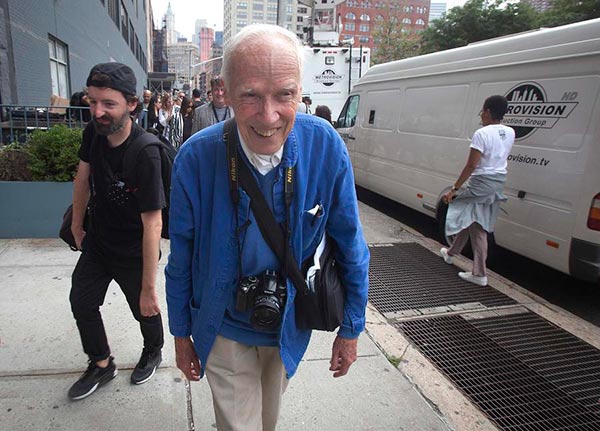 New York Times photographer Bill Cunningham leaves after a presentation of the Calvin Klein Spring/Summer 2015 collection during New York Fashion Week September 11, 2014. [Photo/Agencies]
Cunningham was awarded the Officier de l'ordre des arts et des Lettres by the French Ministry of Culture in 2008 and received the Carnegie Hall Medal of Excellence in 2012.
"Bill was an extraordinary person with an incredible talent not just for fashion photography but for life," Arthur Sulzberger Jr., publisher for the Times, said of Cunningham. "His company was sought after by the fashion world's rich and powerful yet he remained one of the kindest, most gentle and humble people I have ever met. We have lost a legend and I am personally heartbroken to have lost a friend."
Cunningham worked for the New York Times for nearly 40 years, operating "as a dedicated chronicler of fashion and as an unlikely cultural anthropologist," the newspaper said.
Related:
Actor Anton Yelchin of 'Star Trek' films dies in freak accident
Mourners pay their last respects to Peking Opera master Mei Baojiu