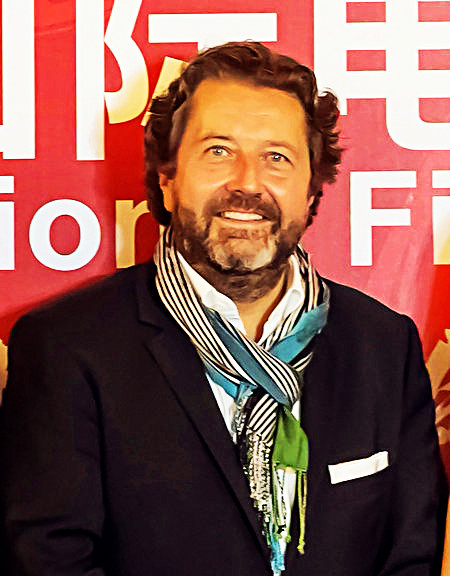 [Photo provided to China Daily]
Chinese cinemas have long been dominated by Hollywood blockbusters, partly because of the existing quota for foreign films.
Only 34 foreign films are allowed for general screening each year on the basis of a box-office sharing system each year.
But now, European filmmakers are hoping to team up with Chinese counterparts to throw a challenge at North American film studios.
"Under the current quota system, it is not easy for European films to be distributed in China. But in the future, it might be liberalized and we'll see more opportunities," Guy Daleiden, managing director of Film Fund Luxembourg, told China Daily on the sidelines of the 2017 Schengen Chinese Film Prize, a new event jointly held by Luxembourg and China, in Shanghai on June 13.
China had signed an agreement on the present quota with the World Trade Organization in 2012, valid for five years. It allows 34 foreign films to be introduced per year based on a box-office sharing system to give 25 percent profit to the foreign producers of the features.
Most Chinese filmmakers estimate the quota would be loosened in the next year, as new negotiations with the WTO are set for mid-February. As more than 90 percent of the 34 foreign films shown in China are from Hollywood, European filmmakers expect they could earn a bigger market share if the quota is revised.
Daleiden says most films from Luxembourg are coproductions with major European countries, such as France, Italy and Spain.
Other than coproductions, Luxembourg's rich financial system makes it attractive to foreign filmmakers, who can get a maximum investment of 1.7 million euros ($1.87 million) for a film from Luxembourg's government.
"We used to coproduce with North America. But in the last couple of years, we have had no such coproductions," he says. "We don't want to act as a serving platform for Hollywood films."
They are looking to make smaller yet interesting stories linked to Europe, Daleiden says.
Luxembourg has a total population of 550,000, of which around 40 percent are foreigners, including 5,000, or 1 percent, from China, Daleiden says.
"It's a multicultural society, which is interested in films with different backdrops," he says.
The Schengen Chinese Film Prize can bring Chinese star power to Luxembourg and other Schengen countries, according to him.
"People love beautiful faces. If you let them see Gong Li or Jackie Chan, they'll be interested in Chinese films."
Chen Yi, the Chinese founder of the event, says Luxembourg, a favorite hub in Europe for banking, has its financial advantages in the film business, too.
"In its long history of international coproductions, Luxembourg has shown that it knows how to reduce commercial risks," she says.
The event will be held in Luxembourg in late February or early March next year.
An influential European filmmaker will be invited as the jury head and the awards will be mainly given to young talents.
Wu Guanping, the executive chairman of the jury and the dean of film studies department at the Beijing Film Academy, says he is now working on selecting the entries for the competition section of the awards.
"China's movie market is not short of investors," he says. "But the big financers are busy competing for celebrities."
Wu says the event would help young Chinese filmmakers win both recognition and financial support.