'Now You See Me 2' star pours praise on Beijing subway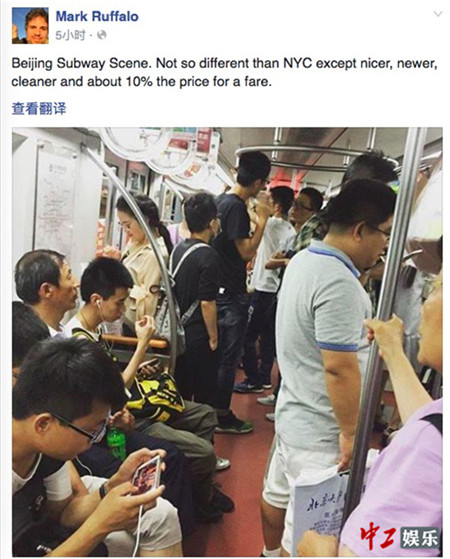 Mark Ruffalo praises the Beijing subway. [Photo/workercn.cn]
Now You See Me 2 star Mark Ruffalo showed up in Beijing on June 19 at the movie's press conference. In the following days, Ruffalo posted his little tour around the city on his Facebook page.
Ruffalo posted that he tried to live as a local Beijinger. But in fact, he is more like a tourist experiencing pretty much everything the city has to offer: climbing the Great Wall, visiting the Imperial Palace, practicing tai chi, eating Beijing roast duck and Chinese hotpot.
Aside from that, he went out of his way to take a subway ride, showing approval for his experience, "Not so different than NYC except nicer, newer, cleaner and about 10% the price for a fare".(sic)
As reported, Ruffalo took his son and his family to Beijing this time, as his son's birthday falls on June 19. "I love Beijing, so I must bring him along," he said.
Ruffalo is an American director, actor and film producer, he was known for his portraying of Bruce Banner in the movie Hulk.