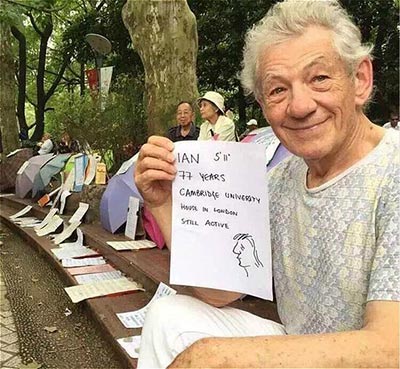 Ian McKellen in Shanghai. [Photo/Weibo]
Veteran British actor Ian McKellen, 77 - often lauded as one of the best Shakespearean actors in the world - has gathered the attention of China's social media for a small "public stunt" he performed on the streets of Shanghai.
The "Gandalf" actor was in the financial hub to attend a "Shakespeare on Film" section at the 19th Shanghai International Film Festival. During his spare time, he visited one of the most famous places for finding a blind date – the Renmin Park in Shanghai, and took a photo of himself holding a paper that read "Ian, 5'11, 77 years, Cambridge University, House in London, Still active", along with a self portrait. In a second photo, he held a card that read "Love looks not with the eyes, but with the mind," a quote from Shakespeare's A Midsummer Night's Dream.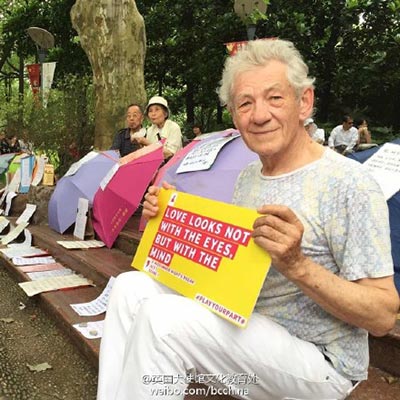 Ian McKellen in Shanghai. [Photo/Weibo]
This year marks 400 years since William Shakespeare's death in 1616. The "Shakespeare on Film" collection of movies is shown during SIFF as a tribute to one of humanity's greatest literature minds.
"I'm not a person of religion but if I had to have a God, it would be Shakespeare," said McKellen, who has starred in numerous Shakespeare adaptations, including Richard III in 1995, in which he was also a screenwriter.
Showbiz in China has become a craze with the pursuit of "IP", or Intellectual Property, from its massive productions based on Internet literature. The value of internet literature has soared, with a considerable number of transactions made and a massive volume of audiences flocking to theaters to see it come alive on the big screen. The productions may sell, but many are criticizing them for its low quality and the superficial ideas it is spreading. For China's film market, which is growing at full speed, the relationship between Shakespeare and film may give it a boost.
From King John in 1899 to Macbeth in 2015, Shakespearean adaptations are perhaps the oldest "super IP" in the minds of filmmakers, telling the same stories over and over again to audiences around the globe for 400 years. Why do viewers still want to see them?
To filmmakers, it is the combination between preserving the essence of the story and creating new focal points.
When British actor Oliver Laurence brought Henry V, Hamlet and Richard III to the big screen entirely in its original form, the works seemed rather dull. When Japanese film master Akira Kurosawa fused Macbeth with Japanese culture into Throne of Blood, a beautiful masterpiece was born.
Shi Chuan, Vice-Chairman of the Shanghai Filmmakers Association, believes Shakespearean theater depicts the most sentimental aspects of human emotion and poses the grandest questions on fate. The growing Chinese film industry, sometimes in impetuous directions, can learn a lot from this pursuit of "endurance and eternity" in Shakespearean works.
Just as McKellen said, many lines from Shakespeare still apply, even in this day and age. "After several centuries, the words that Shakespeare's pen left us can still warm people's souls," he said.
"Love looks not with the eye but with the mind." Perhaps this is the best advice Shakespeare would give to China's film industry.
Related:
McKellen regales Shanghai audience with his lines