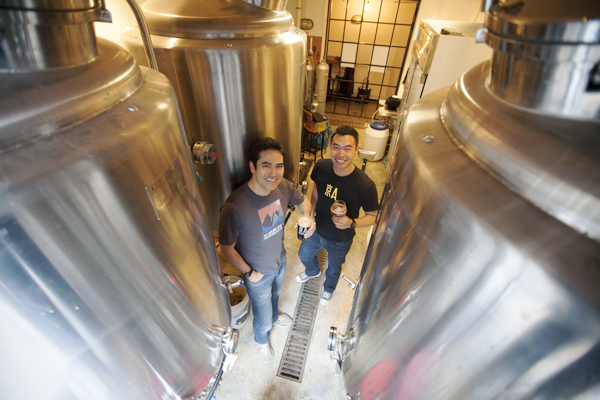 Jing-A Brewing Co founders Alex Acker and Kristian Li first began brewing at home as a hobby. Now their Beijing-based craft brewery is using Chinese ingredients and China-inspired promotions like the Airpocalypse Double IPA, in which the worse the pollution in Beijing becomes, cheaper the beer will be. [Photo provided to China Daily]
When President Xi Jinping and the British Prime Minister, David Cameron, downed a pint of beer at a pub in England, in October, the beer in question immediately became a must have for hundreds of thousands of drinkers in China.
Not only that, but the pub where the two leaders drank, The Plough at Cadsden, in Buckinghamshire, became a must see for Chinese on the tourist trail, almost as compelling a stop-off point as Buckingham Palace or the Tower of London.
The continued sales prospects in China of beer the two leaders drank on that occasion, Greene King IPA, are unclear, but one thing is certain: The taste for craft beers like it that has taken hold in China in the past few years shows no signs of abating.
That success is all the more remarkable given that wine and Western spirits, even for the astonishing sales figures routinely trumpeted about them, have taken some years to turn into anything like staples of Chinese drinking, while craft beers have been an overnight sensation.
The country is awash with beer in sheer volume, most of which are mass-produced industrial beers. More than 47 billion liters of beers were produced last year, more than in any other country, says National Bureau of Statistics of China.