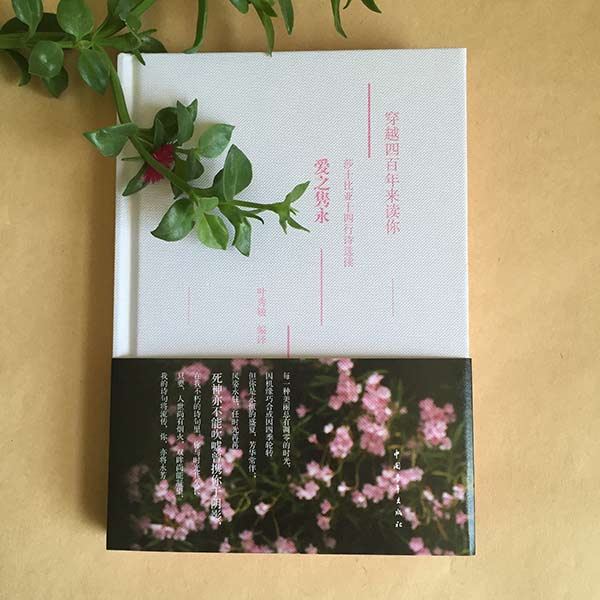 The book cover of Ye Xiumin's translation work Across 400 Years to Read You [Photo provided to China Daily]
In Sarah Ye Xiumin's eyes, William Shakespeare is actually a great lover who is also dark phobic and a little bit afraid of the night.
Born in Fujian province in 1970, Ye was an English major at Beijing's University of International Relations. She is an avid reader who since a very young would read many genres of poetry.
Before translating Shakespeare sonnets, she was a professional translator with the Navy for 16 years.
"Reading and translating the Bard's sonnets, I came to realize a different poet, a true poet. He's (Shakespeare) a human being with depth, which is unclear if we only read his famed plays," Ye said.
"I see how loyal he is to his lover, 'the fair youth', that he has hundreds of ways to praise his lover's beauty, without any repetition of phrases. And I also see his hesitation in expressing love because of the age gap between him and his lover," Ye says as she sits at a Beijing cafe on Sunday afternoon.
A week later, Ye will release her latest dedication to when people commemorate the Bard's 400th death anniversary, and at the same time celebrate the World Book Day on April 24th.
Ye hopes to revolutionize the Chinese into reading Shakespeare sonnets through her well-illustrated book of translation titled Across 400 Years to Read You, published by China Youth Publishing Group.
"I want to bring the sonnets' beauty to its beholders, so that Chinese speaking readers at home can understand Shakespeare as the poet," Ye says.
"My attempts are to break the belief that poetry can't be translated."
To Zhang Yimeng, one of the book's earlier readers and a PR consultant for top international brands, Chinese readers have long been lost in translation in terms of the Bard's sonnet.