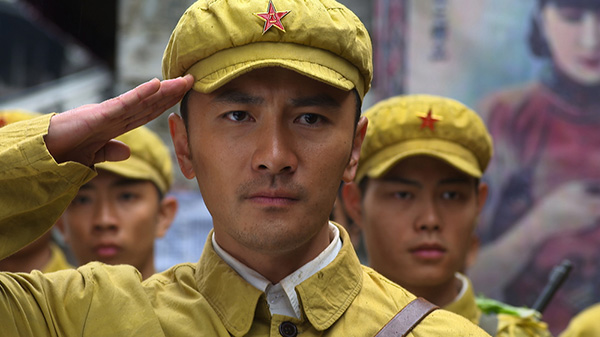 Actor Liu En'you in Qin She. [Photo provided to China Daily]
A new TV drama centered on Chinese military's hunting bandits has recently made waves on the small screen.
Qin She (Catching the Viper), a 32-episode series, has been aired on Beijing Satellite TV since April 13, with four episodes every night.
Set in the 1950s' China, the tale revolves around a Chinese military officer assigned to eliminate a group of bandits hidden in a mountainous, remote area in Sichuan province. After the leader and his team fail several times, he senses a viper-liked spy is lurking among them.
As a series combining the attractive elements of war, gangster-fighting, espionage, revolution and romance, cast members say it breaks the stereotypes of the genre.
Liu En'you, the lead actor, says the shooting has been the biggest challenge in his career.
Up to 80 percent of the sequences were shot in mountainous areas.
"My hand was bitten by several wasps and it soon swelled like a big piece of steamed bread. Though I have experienced such suffering, I believe the visual effects are worthy of the pain," he says.
Related:
When will Chinese TV dramas play their part?