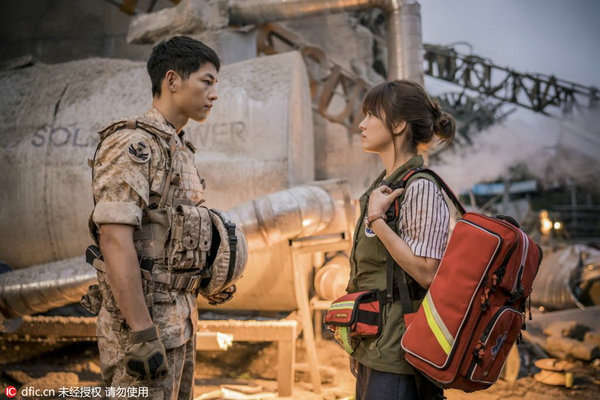 A screen shot of the South Korean TV series Descendants of the Sun [Photo/IC]
A South Korean TV series, Descendants of the Sun, has become quite a sensation in China recently, with online views numbering more than 1.5 billion, since the first episode hit the airwaves on Feb 24 on iQIYI,a major video website.
By the way, this 16-eposide series is the first Korean TV drama to air simultaneously in South Korea and China and it has received enormous attention in both of the countries, with an audience rate of 31.6% on KBS and a reviewing score of 8.6/10 on Douban.com, one of China's biggest online social communities, beating the previous hit My Love from the Star (2013).
But is it really all that good, you may ask? And what makes it so sensational? Well, to get to the bottom of it, I watched it online (10 episodes by now), and have come up with some possible answers.
Clue No.1: Tight plots and straight-forward love
The main plot involves a standard love story about a UN peacekeeper, Capt. Yoo Si-jin (stars Song Joong Ki), and a doctor, Kang Mo-yeon ( stars Song Hye-kyo). But, what makes it different from most other South Korean TV soaps, which take absolutely ages for the protagonists to finally confess their feelings for each other after a whole bunch of messy troubles and struggles (normally about 8 episodes),in Descendants of the Sun is that they come in a more natural way.
It's like this: they first meet in a hospital, feel a mutual attraction, jot down each other's number, and schedule the first date (which of course gets screwed up by a military emergency) —already in the first episode. This business of falling in love at first sight and being honest and frank about their affection instead of being shy or hiding their feelings is, quite frankly, a real leap for a South Korean soap. And the straight-forward, no-nonsense approach to love has won many hearts, especially those of people who are tired of the old Korean drama routines and Cinderella stories.
Clue No.2: Bigger theme, wider perspective
At the same time, what makes this drama really stand out is that its plots are built around some new elements that are not part of the hackneyed urban romance -- medical profession, soldiers, peacekeeping work, earthquake, a disaster, rescue work -- all of which breathe new life into this particular series with a broad theme, and take it to a new level, presenting not just romance, but a greater love, one for humanity.
For example, Episodes 6 and 7 focus on rescue work that involves both doctors and soldiers in the aftermath of a deadly earthquake. At the most dangerous period, their devotion to work, respect for life and faith in humanity seem to sparkle amidst all the ruin. The plot goes much deeper than romantic love and reflects the series' title "descendants of the sun", which, may also be a little bit jingoistic, but then, everyone does that, don't they?