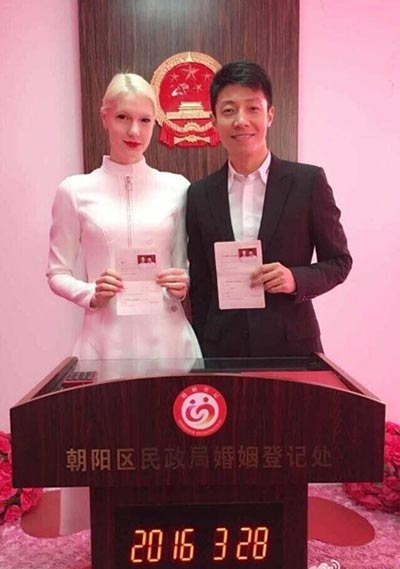 An Internet user posted a photo showing that Sa Beining and his girlfriend Lisa Hoffman registered as a married couple in Beijing on March 28, 2016. [Photo/Weibo]
Famous Chinese TV host Sa Beining officially married Lisa Hoffman, a Chinese-speaking Canadian celebrity, on Monday.
The two fell in love last year and many photos of them together were posted online. It was reported that Sa proposed to Hoffman, a Guinness World Record adjudicator for the Greater China area, at beginning of the year.
Hoffman, whose Chinese name is the same as China's most famous Tang Dynasty poet Li Bai, once was a lead singer in a girl group named "Wuzhou," or "Five Continents," featuring five women from the countries of Uganda, Canada, Australia, France and China. The group rose to prominence after winning the preliminary round of the Avenue of Stars, a singing contest organized by CCTV, China's national broadcaster.
Lisa speaks fluent Mandarin and has also participated in several Chinese TV shows, while taking a job as an English teacher in China.
Sa and Hoffman will host a wedding ceremony in Wuhan, Hubei province in April, where Sa grew up.
Sa once had a short relationship with Chinese actress Zhang Ziyi beginning in September 2011, but they eventually broke up in 2013 and Zhang married rock singer Wang Feng afterwards.
Related:
'Milk Tea Sister' gives birth to baby girl
Pennsylvania man to plead guilty to hacking celebrities' email, iCloud accounts