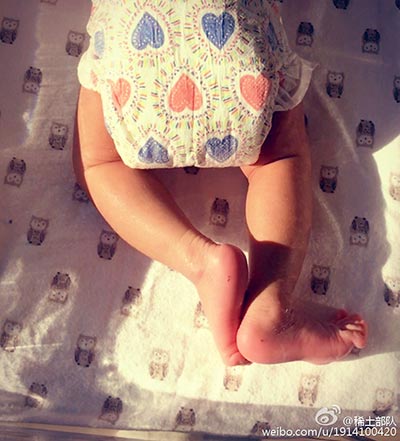 A photo of Zhang Ziyi's baby daughter. [Photo/Sina Weibo]
Chinese actress Zhang Ziyi revealed that the name of her newborn daughter is Xingxing on her Sina Weibo account.
The baby girl, born on Dec 27, 2015, is the first child between the Crouching Tiger, Hidden Dragon actress and Chinese rock musician Wang Feng.
"Hello, friends of mom and dad; I am Xingxing, and I'm one month old!!! I've been playing the whole afternoon, and now it's time for a nap!" Zhang wrote on her Weibo account, along with a picture of her daughter's legs and two others depicting the one-month old party she held for her baby.
Many Internet users sent their blessings, and praised the baby's legs as "those of an aspiring dancer", referring to Zhang's trainings in dance in her early years.
The character Xing (醒) means awake in Chinese. It is very common for Chinese parents to give children baby names with a repetition of two identical characters, as it is traditionally considered lovable.
Related:
Crouching Tiger, Hidden Dragon actress gives birth to baby girl