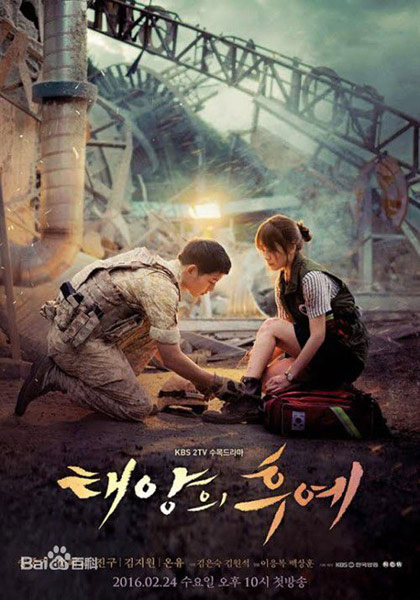 A poster of "Descendants of the Sun". [Photo/ baike.baidu.com]
South Korean TV drama "Descendants of the Sun" is off to a strong start in both China and South Korea since it hit small screens on Thursday.
Meanwhile, it's also the first time that viewers from both countries can enjoy the TV series airing simultaneously.
In South Korea, the premiere viewership rating of the drama was as high as 14.3%, meaning the drama will become the winner for premiere viewership in the country in the past two 2 years.
While in China, the drama gained video views of over 30 million on opening and ranks one of the Top 3 trenind topics for the past 20 hours on Sina Weibo.
The 16-episodes drama stars South Korean actress Song Hye-kyo who first gained popularity among Chinese audiences through her 2004 TV series "Full House".
With the plot scene set in the war-torn country, the drama features a love story between a UN peacekeeping troop's captain and a volunteer doctor.
Different from the live-shoot production format that characterizes most Korean dramas, this TV series was fully pre-produced before airing.
The show is now airing on China's online video platform iQiyi.com at 9 p.m. every Wednesday and Thursday, the same time as on South Korean KBS 2TV.