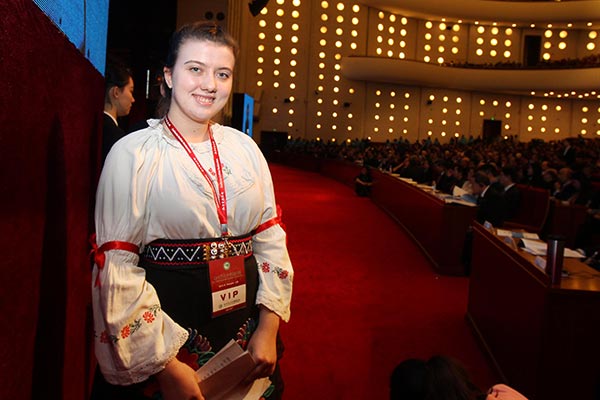 The 8th Chinese Bridge Chinese Proficiency Competition for Foreign Middle School Students first prize winner Stojanović Katarina prepares to speak at the 10th Confucius Institute Conference held in Shanghai on Dec 6, 2015. [Photo/Xinhua]
The Confucius Institute for Scotland's School (CISS) Tuesday launched a new Confucius classroom hub in a high school in Shetland, the northernmost area in Britain.
The launch ceremony was held at Sandwick Junior High School, in the presence of hundreds of pupils and teachers.
Stuart Clubb, headteacher of Sandwick Junior High School, said a Confucius classroom would be established at the school, while a Chinese teacher would travel to other schools on the islands to teach Mandarin and Chinese culture every week.
More than 500 pupils from 11 schools in Shetland islands will benefit from this project, he said, adding that it is not just teaching Chinese, but also offering local children and the youth an opportunity to learn Chinese culture, thus, they can become better global citizens.
There's only one Chinese teacher working for the hub at this moment. Under the support from Shetland Islands Councils and CISS, a second teacher is expected to come to Shetland in the coming academic year.
Zhang Huazhong, Vice Consul General of the Consulate General of China in Edinburgh, welcomed the Sandwick Junior High School joining in the big family of CISS at the launch ceremony.
A total of 22 Confucius classroom hubs have now been founded in Scotland, which means the CISS has covered most of the areas of Scotland.
Covering an area of approximately 1,500 square meters and with the population about 23,210, Shetland is one of the 32 council areas of Scotland.