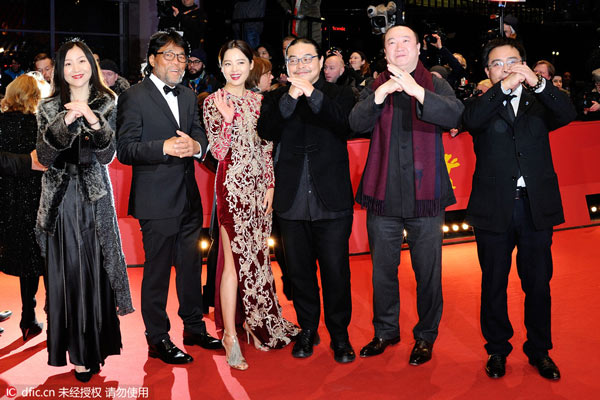 Mark Lee Ping-Bing (second from left, cameraman of Crosscurrent awarded Silver Bear for Outstanding Artistic Contribution), Xin Zhi Lei (third from left), director Yang Chao (third from right) attending the red carpet before the closing ceremony during the 66th Berlinale International Film Festival in Berlin, Germany on Feb 20, 2016. [Photo/IC]
Gianfranco Rosi's documentary film
Fire at Sea
, about the refugee crisis in the Mediterranean off the Italian island of Lampedusa, won the Golden Bear prize for best film at the Berlin International Film Festival on Saturday. The cinematography award went to Mark Lee Ping-Bing for his camera work for the Chinese film
Crosscurrent
, directed by Yang Chao.
It was a fitting end for a festival that went out of its way to make refugees welcome by giving them free tickets. Rosi paid tribute to those who risked their lives to escape war and poverty, and to the people of Lampedusa who welcomed them.
"Of course now at this moment my deeper thoughts go to all the people that never arrived to Lampudusa on these journeys of hope," Rosi said in his acceptance speech on stage at Berlin's cinema palace for the glittering awards ceremony.
Rosi, who won the top prize for another documentary in Venice in 2013, in this film shows daily life on the small island, mostly through the eyes of a young boy named Samuele who makes slingshots to shoot at birds and cactuses.