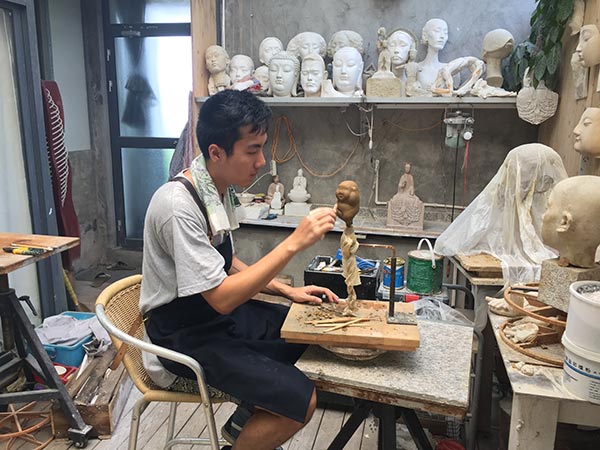 Jiang Sheng works at his studio in Xiangmen, Fujian province. [Photo provided to China Daily]
Buddha statues made by artist Jiang Sheng are not only displayed in galleries and museums, but also worshipped by Buddhists either in well-known temples or in their homes.
The 26-year-old, among the youngest in China to devote himself to making Buddha statues, straddles art and craftsmanship to create his pieces.
Statues made by Jiang are different from traditional images. The young man weaves "creative elements" into the gestures, positions and clothes based on the basic requirements of how a statue should look. For instance, the Buddha's clothes are very long, like a waterfall pouring down.
"The difference between me and a typical craftsman is creativity. Every time I produce a Buddha, I do research, read a lot and then put my own understanding into it," says Jiang, who became a Buddhist in college six years ago.
But when it comes to making statues for temples, he says they are different from his artworks or pieces for private collectors.
For the temples, he has to "compromise" to make statues of the Buddha acceptable to the masses. Temples typically request him to make the Buddha's head big to create a sense of divinity for the worshippers, something which Jiang does not do in his other artworks.
Jiang's mother became a devout Buddhist when he was a child. Influenced by his mother, he started reading the sutras in middle school.
But it was only when he went to college that he turned fully to Buddhism and decided to create images of the Buddha.