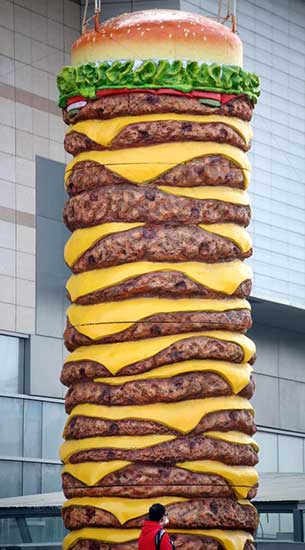 [Photo/Xinhua]
Thinking about a fast food lunch? Well think again after Australian researchers found you'll have to exercise for hours after examining the kilojoule content of 229 small meals and snacks at 25 local fast food chains.
Topping the list released by researchers at the Sydney-based George Institute for Global Health on Wednesday is a Pork Nacho with Garlic Sauce product at a whopping 5005 Kilojoules per bowl, requiring a four hour and eight minute walk, a one hour and 48 minute run or a two hour and 25 minute bike ride.
Almost a quarter of the meals examined, including burgers, salads, sandwiches, burritos and pizzas exceeded 3,000 kilojoules, over a third of the average Australian's daily kilojoule requirement. The average Australian consumes just 8,700 kilojoules a day, and it's recommended no more than 2,000 kilojoules per meal should be eaten, which still requires a 90 minute walk to burn off.
"On average, Australians spend just over 30 minutes per day doing physical activity, which is not enough to burn off the kilojoules in many of these meals," Dr Kristina Petersen from the institute's Food Policy Division said in a statement.
A favourite among the fast foodies, Burger King's - known locally as Hungry Jacks - Ultimate Double Whopper boasted the most kilojoules in the burger category, requiring close to four hours of walking to burn it off.