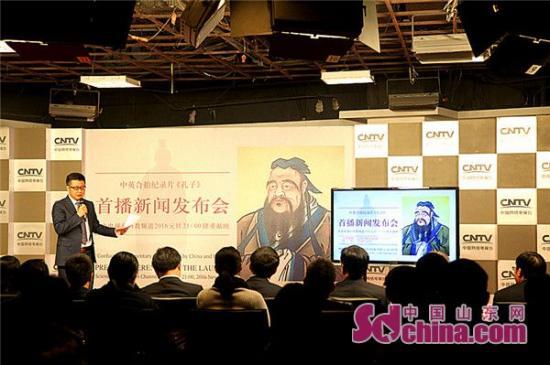 The press conference for the release of the documentary about Confucius [Photo/sdchina.com]
A 90-minute documentary about Confucius was screened on China Central Television (CCTV) on Friday night.
The documentary was broadcast on CCTV 10, the science and education channel of the state TV. It was produced by CCTV, in cooperation with Britain's Lion TV, China International Television Corporation and the Dazhong News Group.
The program told of the life of Confucius, as well as his impact on Chinese history. It was the first documentary about Confucius made by China and a foreign company. Production took two years.
The documentary is comprised of six parts -- the man, the legend, the philosophy, the master, the inheritance and the present day.
Preparation is underway for a 300-minute domestic edition of documentary in six parts.
Born near the present-day town of Qufu in East China's Shandong province, Confucius (551-479 BC) founded a school of thought that influenced later generations and became known as Confucianism. He is believed to be the first person to set up private schools in China and enroll students from all walks of life.
Confucius is regarded as a symbol of China's culture and intellectuals. There are about 1,300 Confucius temples in China and overseas.
A total of 1.9 million people are studying Chinese language and culture in 500 Confucius institutes and 1,000 Confucius classrooms in 134 countries.