Finnish baking mom makes Christmas magic with gingerbread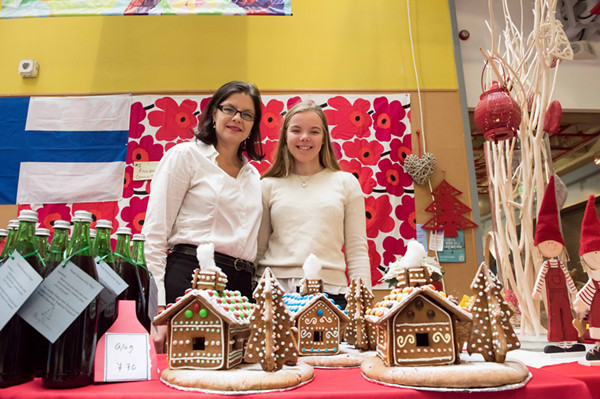 Mila Harju and her daughter Aliisa in front of their gingerbread houses.[Photo provided to China Daily]
Mila Harju, the HR manager at the Western Academy of Beijing, is better-known to the local community as the queen of Christmas gingerbread. She's been making the holiday sweet for a decade, generating more than 5,000 yuan ($780) this year for charity causes that improve living conditions for rural women and girls in China.
How many years have you been doing these gingerbread houses?
This is my 10th year to contribute to the Finnish Community Table in the WAB Charity Bazaar. The project landed in my hands 10 years ago when the person previously handling it moved away from Beijing. She used to make 10 houses with the help of her ayi (nanny), and at that time, I couldn't understand how it was possible to make so many.
Has it been a tradition in your family?
Yes, you can say so. We have always made a gingerbread house for the holidays. The tradition comes from my childhood and I have continued it with my own family.
How many do you make now?
This year, we bumped the 'production' up, and made 15 houses. That is more than the normal 10 or so. Online pre-orders - over WeChat groups - caused us a tiny bit of a supply-chain problem. We couldn't respond to the market demand.
How early do you get started making them?
It takes about three weeks to finish the project. A few years back, I had an ayi helping with the baking, but now it has only been me and my daughter, Aliisa. She is in charge of the decoration. In total, it took 50 hours to work with the houses. I also had a friend to help me to put the houses together and wrap them.
Is there anything particularly Finnish about your recipe or designs?
Yes, there is a Santa and his reindeer (might be Vixen, I think) on the ground of the houses. And, we all know that Santa lives in Finland.
There is a rumor that you may be hanging up your gingerbread-baking apron now ...?
Aliisa is graduating in the coming summer, and will leave Beijing and gingerbread projects - at least for the time being. When my lead decorator is not here any longer, I am planning to move the project over to a bigger group of people who can hopefully continue the tradition.