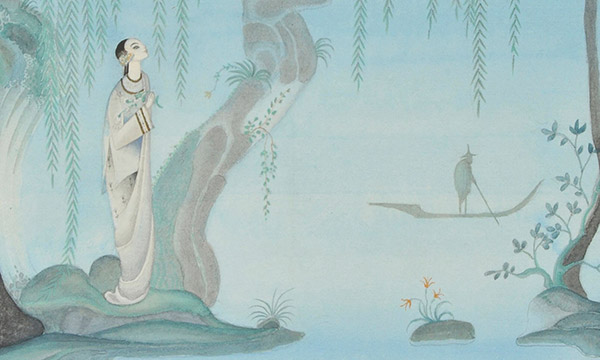 Kay Nielsen's 1923 illustration of Hans Christian Andersen's The Nightingale. [Photo/dominicwinter.co.uk]
A watercolor illustration featuring Chinese elements from Hans Christian Andersen's The Nightingale was sold for £32,000 ($47,814.4) at UK's Dominic Winter Auctioneers.
The illustration, bought by an American collector, is from a rarely seen 1924 version of the fairytale The Nightingale. It was created by the acclaimed Danish illustrator Kay Nielsen in 1923 for a new edition the following year.
The picture shows a Chinese girl standing by the river under a willow tree, seemingly listening to a nightingale sing, and not far away is a fisherman drifting on a boat.
The Nightingale, first published in 1843, tells a story that takes place in China. A nightingale who sings beautiful songs touches the emperor's heart and becomes his favorite. However, soon after, a fancy mechanical bird which could also sing beautiful songs wins the emperor's love and the nightingale is so sad that she flies away. When the emperor is on the verge of death, the mechanical bird, however, is broken and can't make a sound. Then the nightingale comes back and saves the emperor's life using her wonderful voice.
According to theguardian.com, Chris Albury at Dominic Winter Auctioneers said that, "Fairytale watercolours by Nielsen rarely come on the market and we think that this is as good, or better, than any that have come up for sale in recent years", and "It's wonderfully translucent/vellucent and dripping in Chinese influence."
It is said that Hans Christian Andersen (1805-1875), who never married, once fell in love with opera singer Jenny Lind and proposed to her, but was refused. The Nightingale is believed to have been inspired by this lost love.