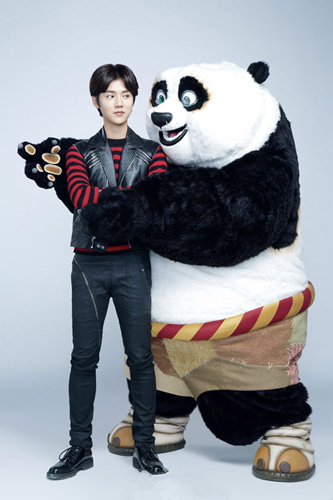 A picture shows pop idol Lu Han and Po during the shooting of music video Deep. [Photo/weibo.com]
DreamWorks' CEO has announced a surprise for Chinese fans by making a Mandarin customized version of Kung Fu Panda 3 on Friday.
CEO Jeffrey Katzenberg highlights this extra film is not a Mandarin-dubbed version, but a redesign and rewrite of the script.
The Mandarin version also adds some dialect elements, in order to help Chinese audiences' get punchlines.
In this new installment of the popular franchise, Po reunites with his biological father and travels with him to a secret sanctuary of pandas, where he has to fight against a villain who intends to steal the masters' Kung Fu powers.
Last week, this American-Chinese co-produced animation has released a promotional music video named Deep, which is sung by popular Chinese singer Lu Han.
The pop idol co-stars with Po in the music video, by interweaving Kung Fu into dance movements.
In addition, big names like Jackie Chan, Jay Chou, Yang mi, Jiang Wu and Huang Lei have voice-over roles in the film.
Kungfu Panda 3 is set for release in China and US on January 29th next year.