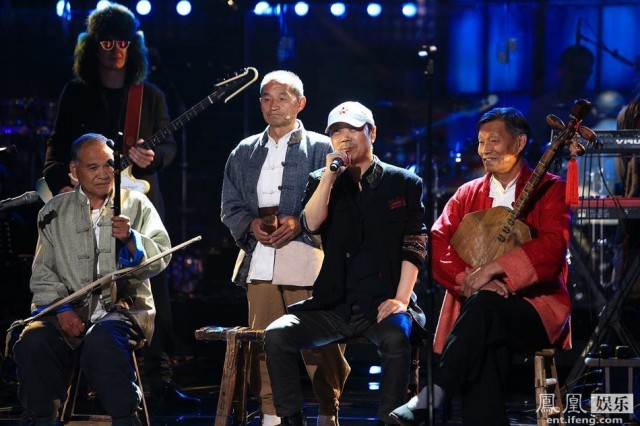 Cui Jian (2nd right), a Chinese rock star, talks with the senior artists of Huayin Laoqiang Opera on the stage. [Photo/ifeng.com]
Chinese singer Tan Weiwei and five senior artists of Huayin Laoqiang Opera jointly performed on a TV show on Dec 5, causing a sensation among viewers. The song they created is a fresh mix of rock & roll and Chinese traditional folk music. And the video of this performance soon became one of the hottest topics with 1650,000 hits on the Internet.
During the performance, Tan shocked the viewers as soon as she started to sing. Five senior artists also got much attention by playing erhu (a two-stringed Chinese musical instrument), yueqin (a four-stringed plucked Chinese musical instrument with a full-moon shaped sound box) and a long bench that is the unique percussion instrument for the Huayin Laoqiang Opera. Their performance surprisingly turned out to be a perfect combination of rock and the traditional Huayin Laoqiang Opera. It ended with the senior artists' beat on the long bench, making great waves among the audiences.
Cui Jian, a Chinese rock star described by his fans as the "father" of China rock, was deeply moved by the performance and noted that it is the best example of a combination of rock and Chinese folk music.
Tan said that she wanted to add some Chinese folk music that has an element of rock and roll and her rock music, for most of the rock and roll is from the West. And the first thing sprang into her mind is Huayin Laoqiang Opera. In her mind, the opera keeps a history of hundreds of years. It is the earliest China rock.
It took her much effort to find these artists who are in their 70s. But when she found them, they soon agreed to perform with her. Due to the different nature of folk music and rock, the combination did not go smoothly at first.
But the performance at last turned out to be a great success, which greatly encouraged Tan. She wept after the performance and said: "I was moved when I saw these artists perform with their full passion. And I am very pleased by the success of this attempt."