A heroic feast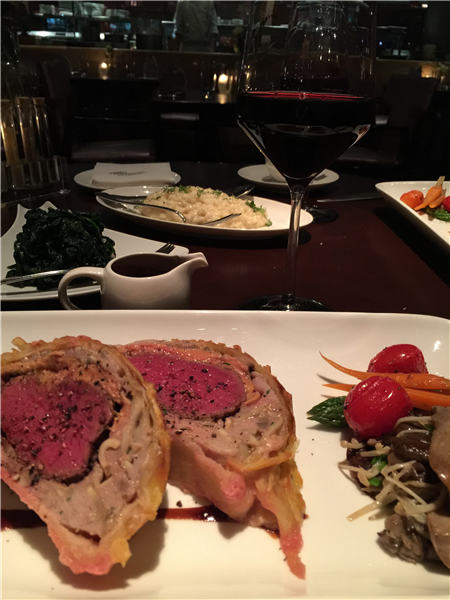 Beef Wellington, a signature dish at The Cut, an award-winning steak restaurant in Beijing. Photos provided to China Daily 
Beef Wellington is a time-consuming challenge to prepare, but this photogenic star of British cuisine is a favorite for special occasions. Mike Peters tucks in for a warm feast on a cold Beijing night.
Christoph Zoller's gleaming chef's knife slices easily through a picture-perfect pastry crust and the tender Wagyu tenderloin inside. It's easy to see why beef Wellington has become a pastry-crusted British classic.
Zoller is a tree trunk of a chef, a towering Swiss who looks impossibly young to be running a kitchen like The Cut, the award-winning steak restaurant at the Fairmont Beijing. Zoller started cooking in a vocational program at age 15 (one day of school, four days in a commercial kitchen), and the plates now before us prove he was a quick study.
"Of course, the dish is traditionally made with duxelles (mushrooms that have been pulverized into a paste) that encase the beef," he notes when we arrive for dinner.
"However, I think that looks a bit gray, so my version is a little prettier, a little more colorful."
Zoller achieves a more vivid look-and flavor-by mixing ground pork and bacon with pan-fried mushrooms, salt, pepper and duck foie gras to give a famously rich dish an air of even more luxury.
"Ovens vary, but here we roast it at 180 C for 22 minutes-or 24 minutes for medium-well, which Chinese guests sometimes prefer. Then we let it rest for 30 minutes to set all of the flavors."
The result is gloriously pink beef-so rosy it's almost red but not at all bloody. Using Wagyu tenderloin from a meat importer that ships it in without freezing means each serving is fork-tender every time.
A month ago, Chinese celebrity chef Steven Liu kicked off the British Menu Week in Beijing by recalling President Xi Jinping's recent state visit to London. That provoked a fish-and-chips frenzy after Xi enjoyed that English classic and some India pale ale with Prime Minister David Cameron.