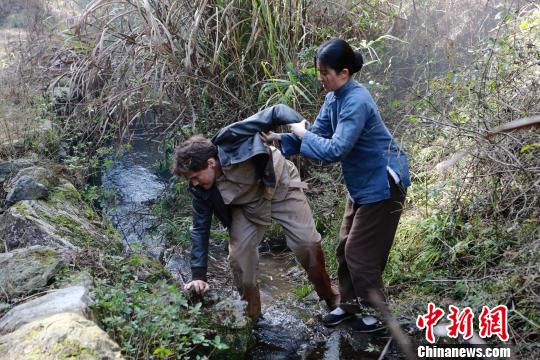 Liu Yifei (right) plays the role of a village woman and Emile Hirsch (left) an American pilot in Rescuing Flying Tigers. [Photo/Chinanews.com]
The large-scale epic movie Rescuing Flying Tigers is being filmed in Qiandao Lake, Zhejiang. The film is directed by Bille August, an Academy Award winner, starring Chinese actress Liu Yifei and American film actor Emile Hirsch.
The movie, which will be released globally in October 2016, has finished its half filming in China.
The film is adapted from a real story that took place in the area of Jiangsu, Zhejiang and Jiangxi during the Second World War, and shows the love and friendship between the American pilots and Chinese people. It took the screen-writer four years to polish the script which then underwent 20 revisions.
Director Bille August said that friendship can be between people of different culture and language, and films can promote the cultural exchange between China and Western countries. He added that he wanted to make a Chinese-themed film for years, and loved the script when he saw it.
Liu Yifei plays the role of a village single mother, which is rather different from the goddess-like females she usually plays.