Who knew Old Engine Oil could be so delicious?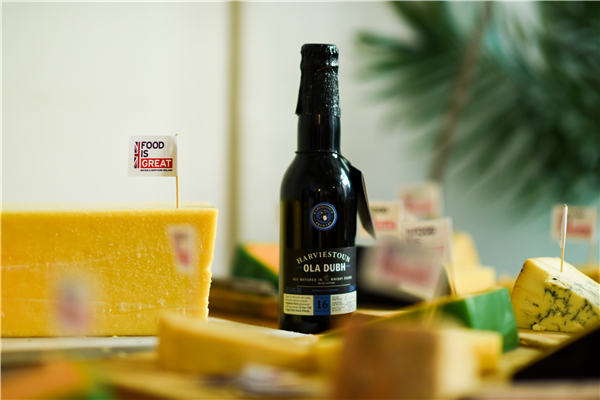 Cheeses and the accompanying brews from Harviestoun are available in Western grocers and restaurants around China. Provided to China Daily
Fifty grams of cheese, says Alexander Macdonald as he presents three British dairy beauties, is perfect for the human diet.
As an American who still struggles with the metric system, I close my eyes and try to imagine if I've hit the quota. Very likely, says Macdonald, sparing me the exercise.
"Many Americans eat more than a kilogram of cheese!" he says, spreading his arms as the mostly Chinese audience draws a collective breath of amazement - or downright horror. "That's why they are so ... big."
I'm used to Brits carping about what Americans have done to "their" language, but this jab is right to the gut. I refuse to look down at mine, however. The bad news at my belt line is already known to me.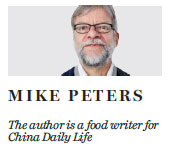 This whole evening, in fact, promises to be good, but not for the waistline. Besides the temptations of two Cheddars, a double Glouchester, a red Leicester and a blue-streaked Stilton, there are beers from the revered brewery Harviestoun to match each, which about 20 of us are sampling at Beijing's Vineyard Cafe.
Importer Samuel Tong talks about the history and the definition of craft beer. Ales are top-fermented. Lagers bottom-fermented, a bit colder. I wrote down the ferment temps, earnestly, but I'm not sure why. Do you care? As Sherlock Holmes once said, these facts are useless to me and simply clutter up my brain-attic.
Now we start popping bottlecaps. First up is Bitter & Twisted, an amusingly named golden ale with hints of grapefruit in its bouquet. Broken Dial amber ale combines three different hops for a nice balance and aroma - earlier this year it won a medal as the best beer in Scotland, where folks are pretty picky about their quaff. The spicy, refreshing Schiehallion, a lager, is "a nice match for salad" (OK) or on its own.
The next round is the good stuff. (Disclosure: I like big black beers, and think IPAs are too hoppy for human consumption but are excellent for cleaning drains.)
What lands on the table next is Old Engine Oil, rich and black, a high-alcohol porter with a heady aroma - notes of chocolate and dried fruit. This, however, turned out to be one of the lower reaches of heaven. There were three variations to come: Ola Dubh 16, 18 and 30. What do those numbers mean?