Popular American grill offers new menu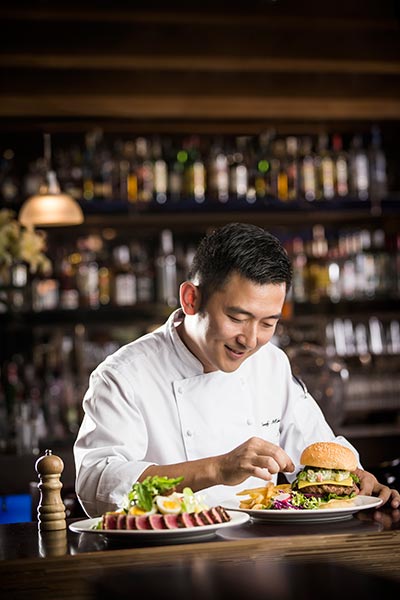 Blue Frog chef with bbq burger and tuna salad. [Photo provided to China Daily]
Blue Frog Bar & Grill, a popular Western restaurant chain known for its laid-back environment and international cuisine, is offering a new menu, including steaks and burgers made from Australian beef.
There are also a selection of meal-sized gourmet salads, appetizers, and Italian pastas along with a variety of shots, cocktails, liquors and wines to enhance the meal.
Blue Frog began its journey 16 years ago in Shanghai and quickly expanded across the country in major cities, such as Beijing and Nanjing, Jiangsu province, featuring a wide selection of classic American favorites at a friendly price point.
Executive chef Ling Zhengu, a Shanghai native with a passion for blending Western traditions with modern Eastern flavors, from fresh spring rolls, spicy chicken wings, tantalizing nachos, hearty salads, juicy burgers, sliders and pastas.
A savory fried-chicken appetizer is served with cucumber sticks and french fries: The salad contains boneless chicken thighs that are marinated for four hours in a sauce of spices, milk and light cream. The ginger scallion dip made with fragrant soybean oil adds a hint of Chinese home cooking to an otherwise traditional Western dish.
The quinoa salad with grilled chicken is also a must-try on the new menu. Packed with protein, but low in gluten content, quinoa is a healthy substitute for rice and bread. The fluffy quinoa is layered on top of a mixed green salad that has been tossed in a sweet pepper-olive dressing.
Related:
Discover Mei Lanfang's epicurean taste in a courtyard restaurant