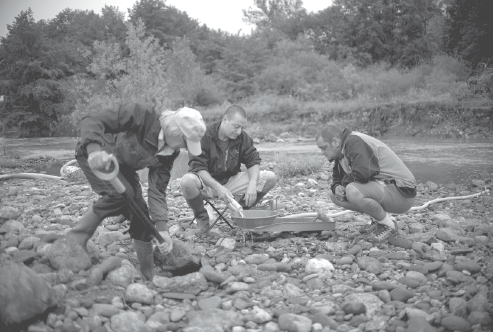 Men rinse sand as they mine for alluvial gold in the Tundzha river near Kazanlak, central Bulgaria in August 2015. [Nikolay Doychinov/AFP]
Many are combing the country's waters to strike it rich More than 2,000 years after the ancient Thracians crafted their exquisite jewelry from gold deposits in Bulgaria, hundreds are combing its rivers again in the hope of striking it rich in the EU's poorest country.
Around a dozen men and a woman stand knee-deep in the waters of the Tundzha river in central Bulgaria. Bent over their green pans, they diligently wash the gravel looking for specks of the precious metal.
"This site must be rich if the Thracians chose it as their capital," 59-year-old Milka Ganeva says, while sorting through stones with her husband near the Koprinka dam.
Submerged under the waters of the gigantic reservoir, built during the communist era, are the ruins of Seuthopolis-the ancient capital of the Thracian civilization, famous for its gold jewelry and other elaborate objects fashioned from the plentiful deposits in the rivers.
A legal pastime since 2009, an estimated 1,500 Bulgarians are currently practising gold panning and even have their own association.
"The gold has always been there. It is not by chance that the region that is now Bulgaria was the cradle of Thracian civilisation," says association chief Kiril Stamenov, 52.
He says the "the glitter of gold" now "attracts people, especially in a poor country," from all walks of life.
Options for indulging in the passion appear unlimited in the country - "almost all Bulgarian rivers are gold-bearing", according to a government report published in August.
Although not abundant enough to merit mining on an industrial scale, the eroding quartz veins in the rocks regularly release gold specs into the rivers.
"We come once a week and have only found 8 grams in two years. When we collect 20 grams we will make good luck amulets for our grandchildren," says Ganeva who has practised panning with her husband for two years now.
The pair even made their own equipment-a dredge with a sluice box powered by a car battery.