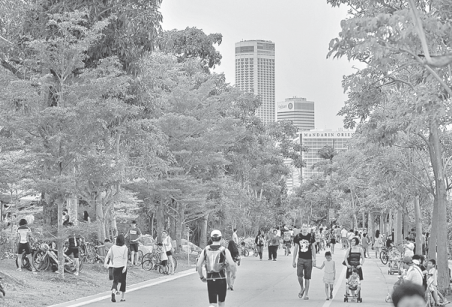 People stroll down the path at the Gardens by the Bay in Singapore. [Roslan Rahman/AFP]
Among the ranks of Asia's powerhouse players, Singapore is often depicted as the squeaky clean poster girl for gleaming glass modernity, priggish protocol and no-fuss efficiency.
But don't judge this slick city-state by its cover: It also boasts divergent cultural heritage, knockout cuisine, a burgeoning bar scene and a heart-stopping skyline at night.
Despite having recently hit the big 5-0, Singapore shows no signs of slowing. In fact, this once small-town kitty cat has transformed over the years into a buzzing metropolis well worthy of its moniker, the Lion City. So forget the cliches, you're in for a roaring good time...
Although there are a few curiosity-piquing new stays in the pipeline (such as the Philippe Starck-struck South Beach and bonkers Hotel Vagabond), for now nothing beats marina-side darling Fullerton Bay Hotel (fullertonbayhotel.com).
Ensure you snag one of their elegant, teched-out pads with a balcony and waterfront outlook, which is particularly spectacular as the Singapore horizon sparkles to life. The rooftop pool and Andre Fu-imagined Lantern bar are also in prime position for drinking in that view. Book ahead for a sunset kickback on one of the coveted front-row daybeds.
To get a real taste of local history, skip along to the Peranakan Museum (peranakanmuseum.org.sg), a pastel-pretty manse offering a crash course in Baba/Nyonya life with intriguing artefacts, antiques and photos.
As you'll no doubt learn, Peranakan identity originates from the 16th century intermarriage of Chinese merchants and women from the Malacca Straits. This cultural coupling spawned an aromatic, punchy cuisine-still unique to the region today - combining Chinese cooking methods with indigenous ingredients such as coconut milk, galangal, tamarind and lemon grass.
Blue Ginger (theblueginger.com) is a delectable initiation into exactly that. A 10-minute cab hop away and set across a funkily converted shop house, the tongue-tingling fare ranges from robust beef rendang and smoky squid curry to banana leaf-enveloped fish cakes. Service can be slow, but it's friendly.
While once there was a dearth of decent drinking dens (and an abundance of expat boozers and generic hotel lounges), the scene is fast gaining global recognition, with a couple of establishments sneaking onto The World's 50 Best Bars list this year.
Leading the new wave is 28 Hongkong Street (28hks.com), an unsigned, dim-lit lair of both classic and cutting-edge pours. Feeling fancy? Ask for The Office, a clandestine in-house cubby for only eight lucky patrons.
The plush and deeply seductive Manhattan Bar (regenthotels.com), inside the Regent Hotel, is a more formal affair; or for the youth vibe, Potato Head Folk (pttheadfolk.com) is an artsy triumvirate of burger joint Three Buns, chinoiserie-dappled Studio 1939, and breezy Rooftop Garden, swilling the best rum cocktails in town.
Whether indulging in a 5-star feast or rolling up your sleeves for hawker fare, the choice in Singapore is positively diet-destroying.
The lack of air-conditioning and stark strip lighting aren't exactly forgiving, but hawker centers really are the best way to sample local food. Pack your wet wipes and make a beeline for the stalls with the longest queues.
Old-fashioned cast iron
The old-fashioned cast iron Lau Pa Sat is aesthetically attractive (which also makes it a tourist trap); Chinatown Complex is basic but tasty; and Maxwell Food Center is well-positioned for post-Club Street munchies. However, we adore the East Coast Lagoon Food Village for its heavenly chow and beach views. Go early.
Chicken rice and surf-fresh shell-fish are also a must-not to mention a national favorite. Five Star (fivestarchickenrice.com) grills only free-range chooks while No Signboard Seafood (nosignboard.com.sg) fires up a mean chilli crab. Choose the original, rustic and less touristy Geylang branch for the latter.
If haute floats your boat, pop over to vibey pea-green Tippling Club (tipplingclub.com), where Ryan Clift wows with global sups and craft sips; or splurge on an unforgettable eight-course prix fixe - complete with eye-watering price tag - at Restaurant Andre .