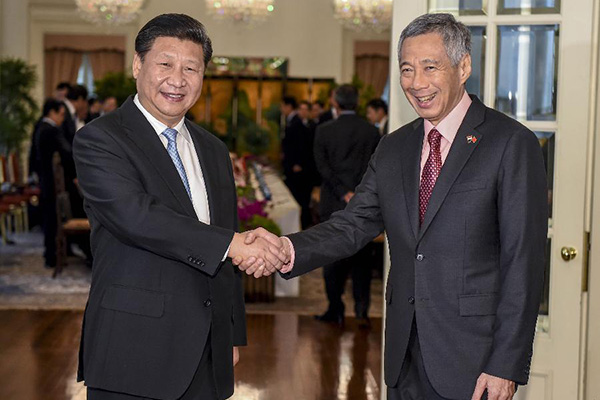 Chinese President Xi Jinping(L) meets with Singaporean Prime Minister Lee Hsien Loong in Singapore, Nov 7, 2015. [Photo/Xinhua]
SINGAPORE, Nov. 7 (Xinhua) -- China and Singapore signed an agreement here Saturday to launch negotiations on upgrading their seven-year-old free trade agreement (FTA).
It was one of a slew of deals the two sides signed in the morning in the presence of visiting Chinese President Xi Jinping and Singaporean Prime Minister Lee Hsien Loong.
The existing China-Singapore FTA was signed in October 2008 and entered into force on Jan 1, 2009. It was China's first comprehensive bilateral FTA with another Asian country.
The accord has played an important role in boosting two-way trade and investment, and has become a pillar of the close relationship between the two nations, Lee told Singaporean newspaper Lianhe Zaobao in an interview published Friday.
Data from China's customs show China is now Singapore's biggest trading partner with two-way trade hitting $79.74 billion in 2014, a 28-fold increase from over two decades ago.
As China transforms its economy and enterprises from both nations go global, the two sides have recognized the importance of an upgraded FTA, which should meet the increasing needs of their businesses, Lee said.
"A forward-looking and high-level upgraded version of the FTA will consolidate two-way trade and economic cooperation in the future," the prime minister told the newspaper.