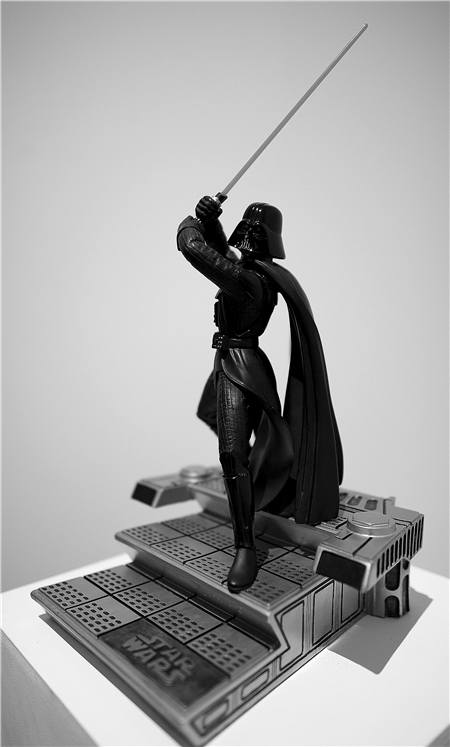 A Darth Vader Cinemacast statue is among the Star Wars collectibles displayed in New York. [Photo/Agencies]
A Luke Skywalker doll for $18,000. A Darth Vader helmet or a cuddly Yoda for $100. Star Wars fans will dig deep to splash their cash on some of the rarest merchandise on the planet.
More than 600 items will go on sale in an online auction organized by Sotheby's and eBay at 1 am on Saturday, Beijing time - one week before the release of Star Wars: The Force Awakens, the seventh movie in arguably the world's biggest film franchise.
The space epics have grossed billions of dollars at the box office worldwide since the first film came out in 1977 and spawned a pop culture phenomenon, drawing legions of hardcore fans.
All of the items in the auction come from the private collection of Japanese designer and creative entrepreneur Nigo, who started collecting toys and figures decades ago, at age 6.
Bids are expected across the globe when the three-hour auction goes live, says James Gallo, Sotheby's consultant and owner of the store Toy and Comics Heaven.
"It's a really large assortment of stuff. It's an impressive auction both in rarity and scope of items," he says.
Sotheby's, set up in London in the 18th century and best known for selling fine art masterpieces, called in Gallo to value the collection, which he spent a week and a half sorting through.
From the United States to Russia, China and Saudi Arabia, Star Wars has a fan base spanning generations. The films' psychology has even found its way onto university syllabuses.
"It's by far the strongest franchise," agrees Gallo. "It's been around longer than most, it's merchandised more than most ... There isn't much that can compare."
A Luke Skywalker doll, which would have been sold in 1978 as a children's toy, goes on sale at the auction with an estimated value of $12,000 to $18,000.
The figurine, with a rare two-piece telescoping lightsaber, was quickly withdrawn from the market "due to the propensity for the lightsaber to snap off", Sotheby's says.
Never removed from the packaging, itself in pristine condition, it is one of only 20 confirmed specimens of the doll, the auction house says.
"The very high end of the market is like that," Gallo says. "When you're talking about something that there's 20 or 30 known in the world and there's however many millions of Star Wars fans, when you put it in that perspective, it's quite rare."
The most expensive items are two complete sets of Power of the Force coins, valued at $25,000 to $35,000 that were made available by special request from the manufacturer, Kenner.
Highlights went on display on Friday in a private exhibition at the Conde Nast Gallery at One World Trade Center in New York.
Gallo says he is tempted to bid on a couple of items himself, but that his favorite is a 1.06-meter-tall Chewbacca from Canada valued at $3,000 to $5,000.
"It's a really neat item," says the Pennsylvania-based aficionado. "It's a rare item to find."
AFP