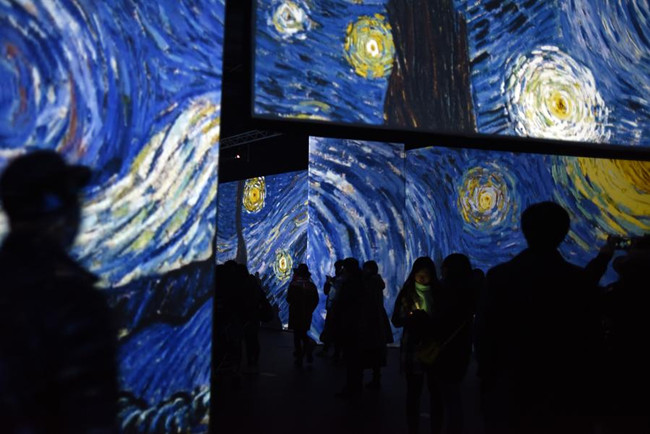 Visitors experience the visual banquet at the exhibition. [Photo/Xinhua]
Van Gogh Alive, a high-tech multimedia art show focusing on Van Gogh's masterpieces, ended its Beijing tour on Sunday. During its 90-day show, it attracted more than 150,000 visitors just in the city, with more than 500,000 attending the show across the country.
The Beijing show was held at a 1,500-square-meter space that was specially constructed for the event outside Joy City Mall in Chaoyang district. More than 3,000 high-resolution images of Vincent van Gogh's paintings, photos and letters were projected onto the floor, columns and screens covering the whole wall of the building.
The show, which began on September 7, won praise from the audience. On the last day of the event, many visitors went to Joy City Mall and experienced the grand visual banquet despite the cold weather.
"It's my second time that I'm visiting the show, last time with my friend, and this time with my husband and daughter. Although they are not displaying any authentic works of the Dutch genius, and the ticket is a little bit expensive, it is still an unforgettable experience, a great chance to know more about Van Gogh's life story and his works. I wish there will be more similar high-tech exhibitions in Beijing," said Liu Ying, a visitor.
According to International Cultural Exchange Centre of China, the sponsor of the show, the aim of the event was to provide Chinese fans of the Dutch painter a deeper understanding of his short-lived but prolific life at the 125th anniversary of his death. They also wanted to challenge the audience's preconceptions and help them better appreciate the artworks.
The sponsor told Chinese media in recent that the show would be held in Wuhan, Hangzhou, Xiamen and other cities in China next year.