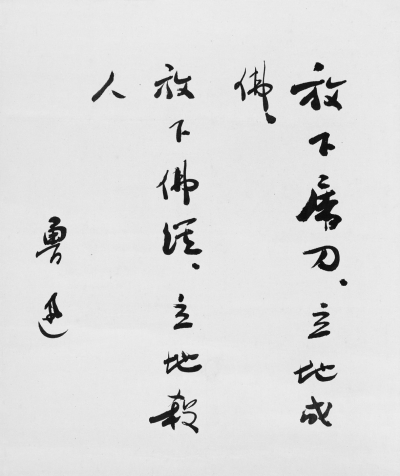 Calligraphy piece by Lu Xun [Photo/Beijing Times]
A piece of handwriting by Chinese great literary figure Lu Xun is going to be sold at Beijing Council's autumn auction on Friday, with an estimated price of 800,000 yuan ($125,096).
The running script, in the form of a four-sentence Buddhist hymn, has 16 characters, translated as "A butcher becomes a Buddha the moment he drops his cleaver. A man becomes a killer the moment he drops his sutras".
The piece is from a descendant of Japanese educator Yasuzou Shimizu, who was an old friend of Zhou brothers Zhou Shuren (real name of Lu Xun) and Zhou Zuoren.
The handwriting is in a delicate wood box, with handwritten notes "Dawn Blossoms Plucked at Dusk, Yasuzou, seventy-seven", followed by a text saying, "The piece is from Zhou Shuren. As I miss my old friend so much, I wrote the name of Lu Xun's book here."
Experts speculate that the 16-character handwriting was a gift to Yasuzou Shimizu by Lu Xun, written during 1927-1931.
According to Chen Zishan, a professor from East China Normal University, Lu Xu's calligraphy piece is extremely precious as it is very rare to see.
In November 2013, a letter by Lu Xun written to Tao Kangde on the subject of learning Japanese sold for 6.56 million yuan (more than $1 million).
Yasuzou Shimizu was a major educator Lu Xun had close contact with in Japanese literary circles. The piece reveals a section of history between the two. From Yasuzou Shimizu's later year memory, his first meeting with Lu Xun was quite dramatic. Yasuzou was originally there to visit Lu Xun's brother, Zhou Zuoren, but was kept outdoors. Then a man with a black beard poked his head out of the door and said "If you are willing to talk to me, then please come in." Until later, Yasuzou didn't know that it was Lu Xun.
Related:
Chinese collector splurges big on a Modigliani nude painting
Christie's Hong Kong 2015 autumn season opens