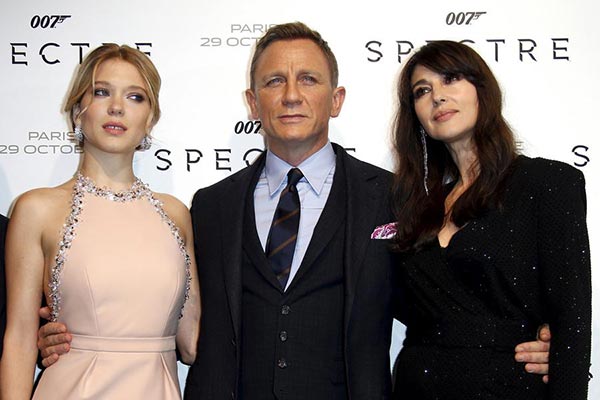 Actors Lea Seydoux, Daniel Craig and Monica Bellucci (L-R) pose for photographers on the red carpet at the French premiere of the new James Bond 007 film "Spectre" in Paris, France, Oct 29, 2015. [Photo/Agencies]
"Spectre," a new James Bond movie starring Daniel Craig, continued to rule China's box office in the week ending Nov 22, earning 188 million yuan ($29.4 million).
Without any major competition in the initial days of its screening, the film broke several records in the world's second largest film market, including biggest Friday opening and the biggest weekend earnings for a foreign 2D movie.
"Spectre," the 24th installment in the franchise, debuted in China on Nov 13.
"Our Times," a rom-com from Taiwan, earned 109 million yuan to come in second in the week. The film was released on Nov 19.
The third place went to "The Hunger Games: Mockingjay - Part 2," which earned 102 million yuan in the week after opening on Nov 20, China Film News reported Wednesday.
"The Transporter Refueled" landed in the fourth with 70.4 million in the week. The crime-thriller was also released on Nov 20.
Rounding out the top five was domestic rom-com "Ex-Files 2," with 29 million yuan in the week. The film debuted on Nov 6.
Related:
UK's Catherine attends premiere of Spectre