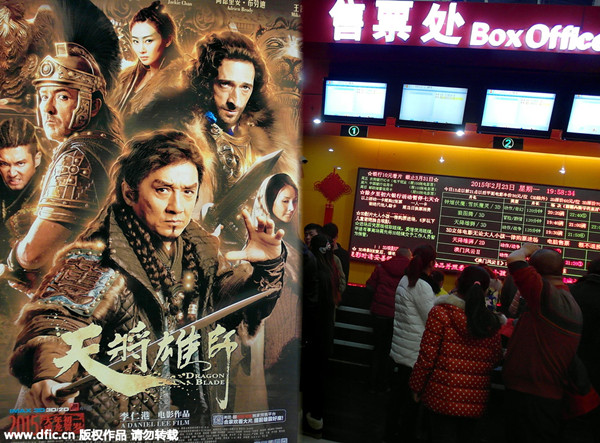 Chinese moviegoers buy tickets for the movie Dragon Blade at a box office of a cinema in Yichang city, Central China's Hubei province, Feb 23, 2015. [Photo/IC]
China's film watchdog said on Friday it will take further action against box office fraud.
The State Administration of Press, Publication, Radio, Film and Television (SARFT) said more technical measures along with more strict regulation would improve management of cinema ticket sales, with blacklists of wrongdoers made public.
In response to recent news that domestic movies are inflating box office figures, in an interview with China Central Television Li Dong, deputy head of SARFT movie fund commission, admitted that problems still exist in ticket sales .
"Statistics from the nation digital ticketing platform show that a few cinemas and distributors have manipulated viewing figures and sales. For example 300 tickets may be sold in a hall of 200 seats and all tickets sold are counted at full price," said Li.
Li explained that some distributors inflate ticket sales to make a splash in the movie market.
China's film market, now the world's second largest, has been a huge success this year. According to SARFT, cinemas have taken 30 billion yuan already this year, exceeding the 2014 total of 29.6 billion yuan.
Homegrown movies Monster Hunt and Lost in Hong Kong are claimed to have reaped 2.4 billion yuan ($385 million) and 1.6 billion yuan respectively, but reportedly involved in as yet unconfirmed box office fraud.