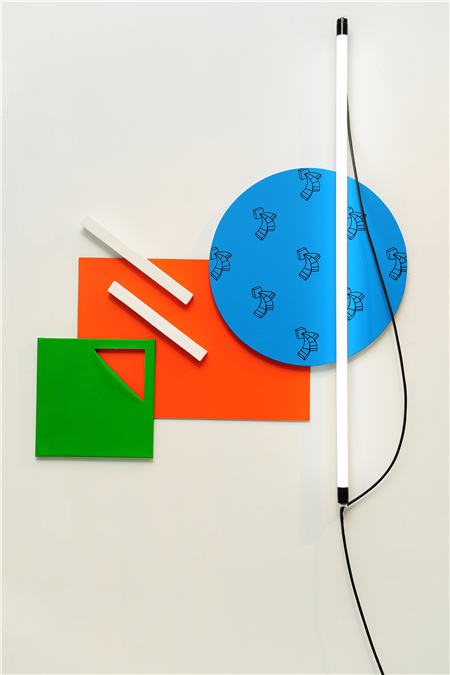 Artwork by Hoel Duret [Photo provided to chinadaily.com.cn]
Nine artworks by French artist Hoel Duret are on display at Beijing Yishu 8, marking his debut solo exhibition in China. His art, inspired by many elements of Chinese popular culture, is presented in different forms, such as painting and photography.
During the exhibition, the film, La vie héroïque de B.S. is being screened. It's a drama depicting the story of B.S., a mysterious designer who inherited certainties of modernist thought to a degree of absurdity and disenchantment.
Having travelled through China for three months on a route from an ancient temple in remote Wutai Mountain to skyscrapers in Hong Kong, as well as diverse Beijing, Duret finds connections between his previous creation style and the new culture.
Gradually, pop culture on the streets in China caught his eye, including items people were wearing, such as accessories, patterns and colors of different designs. Duret associates these elements with Western aesthetics from the 1980s, from Jean-Paul Goude's fashion photography to the Italian Memphis Group's colorful designs.
The experience of living in China also inspired him to write a film script, which will begin shooting in France next year. The art show is themed, "Mood Board", giving the visitor a hint about the movie based on the script. "It's like a 'mood board' of the to-be-released film", Duret said.
Christine Cayol, founder of Yishu 8, said, "Hoel Duret is not only an artist, but also an intellectual, an artisan, an aesthete, an imitator, a poet, a designer, a writer and a filmmaker, but even with so many roles, he keeps an earnest attitude all the time and explores art without constraint."
Duret was born in Nantes, France, and graduated from the Nantes Academy of Fine Arts in 2011. His work has been seen at the Biennale de Mulhouse where he was awarded the Young Creation Award in 2012.
He was also awarded the Yishu 8 Prize in 2014, so this year he had the chance to stay in China for three months to work on his creations.
If you go:
From Through Nov 15
Yishu 8, former Sino-French University, No 20 (jia), Dong Huangchenggen Bei Jie, Dongcheng district, Beijing
+86 (10) 6581 9058