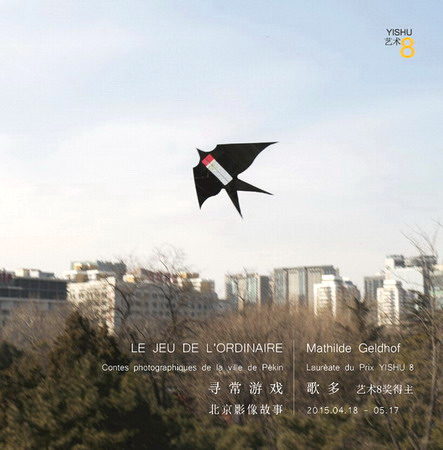 Picture provided by Yishu 8.
The solo photography exhibition by French artist Mathilde Geldhof, the 2015 laureate of the Yishu 8 Prize, kicked off at art gallery Yishu 8 in Beijing on April 18.
The exhibition The Ordinary Game: Photographic Stories of Beijing, displays a series of photos capturing the artist's first visit to the capital of China.
During Geldhof's three-month residence in this city, she walked to numerous venues, such as the Summer Palace, Temple of Heaven, Beijing Museum of Natural History, Beijing Zoo and various streets.
According to the photographer, the most important aspect of her work in the exhibition is the everyday life of the Beijingers.
"I am not looking for very extraordinary things or places, but in every moment of the day and in every place in Beijing, there is something magical, strange, mystic or narrative. I wanted to capture this," she said.
Most of the subjects in the photographs were selected from ordinary daily life, with one juxtaposed to another, creating a sharp contrast in a frame and leaving space for interpretation: red firecracker scraps scattered on the ground and passengers in black nearby; a wolf in the iron cage and a visitor's image reflected on the mirror outside; father and son in real life sitting before a big landscape oil painting.
Geldhof said that she tried her best to press close to Beijing and to understand its relation to residents. "I have found different faces of this city. Every day, I kept being shocked by its complexity and contrast," she said.