Xia's stamps
Shanghai Museum is presenting an exhibition of the stamp collection of Xia Yan, including rare and precious stamps from the 18th century. Xia (1900-95) was a playwright and a Chinese cultural official. He was a keen collector of stamps from a very young age. He and his daughter donated his private collection to Shanghai Museum once in 1991, and then again in 2009.
9 am-5 pm, through May 3. Shanghai Museum, 201 Renmin Avenue, Huangpu district. 021-6372-3500.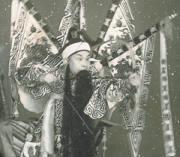 His father's son
Artist Michael Chow is presenting an exhibition of 32 paintings. Chow is the son of modern Chinese Peking Opera master Zhou Xinfang. He named the exhibition Voice for My Father, to demonstrate how he inherited his artistic style and expression from his father. Historical documents about Zhou Xinfang will be part of the show.
11 am-7 pm, Tuesday-Sunday, April 18-June 28. Power Station of Art, 200 Huayuangang Road, Pudong district. 021-3110-8550.
Creative windows
Nine Royal Institutes of British Architects certified architects have been invited to use the shop windows of 10 retail brands in Shanghai's Xintiandi as a canvas for creation. This is the third year the Windows Project is being held. The highlight of this year is an outdoor installation titled Depth Drawings.
10 am-10 pm, through May 31. Xintiandi, Lane 181 Taicang Road, Huangpu district. 021-23168216