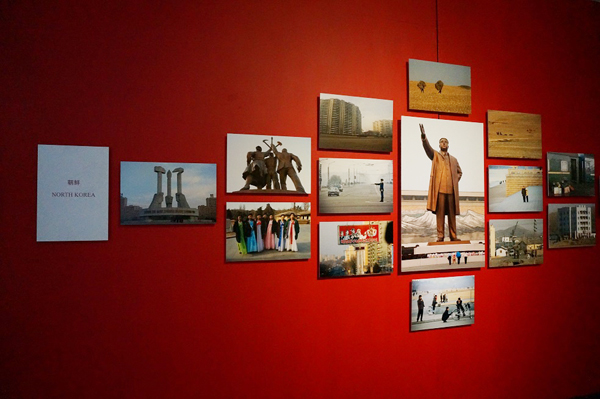 Photo essay of North Korea at the exhibition Images from the Red Nations. [Ruan Fan / chinadaily.com.cn] For more photo, click here 
"Westerners tend to think that the North Koreans are struggling in a living hell, which simply might not be the case, as you can tell from the pictures," said Na Risong, curator of an exhibition at Inter Art Gallery, Beijing's 798 Art Zone.
The exhibition, entitled Images from the Red Nations, features photos taken in 21 countries from the former socialist bloc, including North Korea, Albania, Yugoslavia, Romania, East Germany and Cuba. Driven by a sort of nostalgia from the photographer's experience of China in the 60s, this is the first time a Chinese photographer has shown a collection of photos from the defunct socialist alliance.
"The socialist complex rooted in those people could only be told by those that have similar experiences," Na said, "and westerners simply cannot grasp the nuance and subtlety."
Liu Yuan, the photographer, is an indefatigable traveller and prolific photographer born in the 1950s. Having lived through the 60s when red China cut itself off from the world, Liu has always wanted to see what the countries of the Eastern bloc were like.
It all started with a tour of North Korea. Early in 2008, he set foot in this land, mysterious to easterners and westerners alike. The tour brought back memories of his teenage years in North China. "The poor living standard and the parochial mentality of the people were just like in isolated China decades ago," Liu said.
Photos taken on that tour were later exhibited at the China Pingyao International Photo Festival, where curator Na saw them as well as photos of Cuba, and the contrast between the two socialist countries sparked the idea for a larger exhibition in his head.