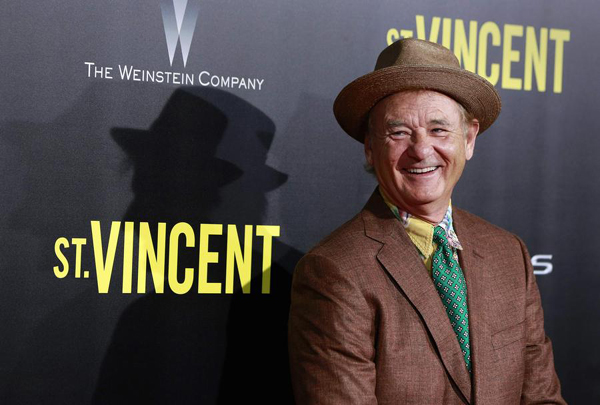 Cast member Bill Murray arrives for the premiere of the film "St. Vincent" in New York, October 6, 2014.[Photo/Agencies]
Hollywood actor Bill Murray, famous for iconic roles in blockbuster films such as Groundhog Day, Ghostbusters, Lost In Translation and The Grand Budapest Hotel, is to present an Award in Shanghai's Grand Theatre at Wednesday's Laureus World Sports Awards.
He will be joined as an Award presenter at the most prestigious honors event on the international sporting calendar by top model Karolina Kurkova.
In a star-studded line-up, they will be joined by Henry Cavill, widely acclaimed for his role as Superman in the highly successful film Man of Steel, and South Korean award-winning actress Ha Ji-won. The Awards Ceremony will be hosted for the second year by film and TV star Benedict Cumberbatch.
The Laureus World Sports Awards is the premier honors event on the international sporting calendar. The winners, as voted by the Laureus World Sports Academy, the ultimate sports jury, made up of 50 of the greatest sportsmen and sportswomen of all time, will be unveiled at the globally televised event on April 15.
Related: