TCM, sports prescribed as tourism cure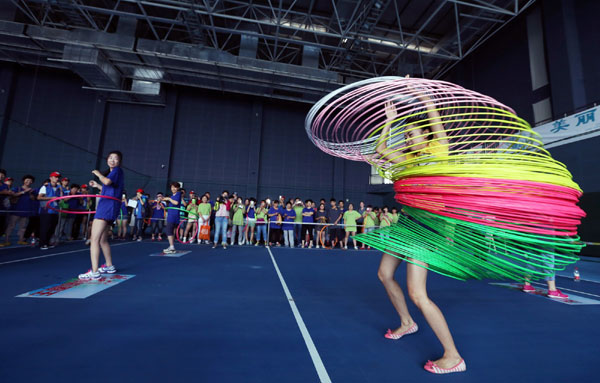 People practice with hula hoops in a gym in Beijing.[Photo by Pang Zhengzheng/Xinhua]
Beijing plans to use traditional Chinese medicine and sporting events to attract more overseas visitors, an official from the capital's tourism authority has said.
Wang Yue, deputy director of the Beijing Commission of Tourism, said the capital will promote TCM and some sporting events, such as the upcoming 2015 World Athletics Championships, the most important such event in China since the 2008 Olympic Games.
"Visitors stream into Beijing for major sporting events," said Wang. "The 2008 Olympics is an excellent example. Beijing's tourism industry in Beijing benefited enormously from that. So we intend to promote more of these as tourism products."
TCM tourism products combine sightseeing opportunities with traditional health services such as massage and healthy cuisine. Seven major travel agencies in Beijing have been highlighting this since August.
Wang said she was confident in the health benefits of TCM for the capital's tourism industry.
"Beijing is going to transform from a sightseeing destination into a more comprehensive vacation destination," Wang added.
Over the past two years, Beijing has struggled with stimulating inbound tourism, while its outbound tourism has flourished. From January to July, the city received 2.36 million overseas visitors, a 5.9 percent year-on-year decline, according to the Beijing Bureau of Statistics.