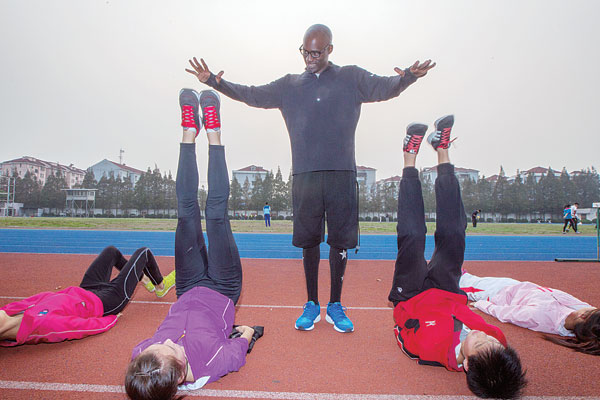 Sprint coach Rohsaan Griffin puts his "future Olympians" through their paces. [Photo by Gao Erqiang/shanghai star]
A former 200m standout athlete who served his country in the Middle East is in Shanghai grooming female Chinese sprinters for medals at the Summer Olympics. Matt Hodges is shocked and awed by his tale.
Accidental infantryman Rohsaan Griffin grew up on the wrong side of the tracks in small-town Texas. The odds of him escaping the ghetto to snatch Michael Johnson's national indoor 200m sprint record were stacked the wrong way from the start.
Despite his natural speed, he couldn't even make his varsity track team for two years because, in a state that worships football, spaces were gifted to gridiron players to use for practice.
But ever since a supportive high school coach dropped off a hurdle in his backyard one day after school, he waited patiently for his break. He eventually switched over from hurdling to the 200m sprint and featured in three IAAF World Championships.
"I would come home from practice and do drills on that hurdle every night," he recalls. "It's still in my garage, all rusted out."
Motivated by his fourth-place finish at the indoor worlds in 1997, which put him a few 1/100s of a second shy of bronze, he looked destined to become an Olympic or even world champion before 9/11 derailed his plans.
Like many aspiring Olympians, he joined the Army to benefit from its World Class Athlete Program, a kind of scholarship for gifted athletes. He never expected to see active duty. The Twin Towers fell when he was in basic training.
"Getting into the US Olympic finals in 2004 was not even a question," says Griffin, who had previously done so in 1996 and 2000.
"Then 9/11 happened," he adds. "I ended up watching the Athens Games in tents between Najaf and Fallujah with Internet access."
Unexpectedly drafted to one of the world's deadliest war zones, he spent 18 months as a gunner surviving IED blasts before leaving the Army to become a respected track coach in the US and now in China.
His job: manning Bradley-mounted guns in Baghdad, winning hearts and minds, confiscating weapons, and tracking down deck-of card insurgents while attached to a Special Operations unit during the Battle of Najaf in August 2004.
"We lived in a graveyard for a month," he says of the hunt for Shia cleric Muqtada al-Sadr. "I'd never seen close combat before."
"We didn't even realize where we were because we got dropped off by helicopters at night. It was only the next day we saw we were surrounded by tombstones and stuff."
Now the battle-hardened 40-year-old with a soft Southern drawl hopes to help realize the Olympic ambitions of 11 teenage Chinese girls at a facility in Shanghai where 110m hurdler Liu Xiang, a former world record holder, still trains.
His mission, which cynics may see as his toughest yet, is to produce medalists at the 2016 or 2020 Summer Olympics, as well as at high-profile international meets leading up to them.
"I have three that can medal next year, and they're realistically going to be future Olympians in 2020," he says. His contract includes a lucrative medal bonus.
"They have unbelievable talent. They just need to adapt their training techniques."
He joined the World Athletics Center in North Phoenix this March and was seconded to the Shanghai school as part of a four-year partnership program aimed at bringing top-level coaching to China.
As a coach, Griffin brings another US military motto to bear: "the only easy day was yesterday" mantra of the Navy SEALS.
"The sport has got faster, so now you have to train faster," he says.