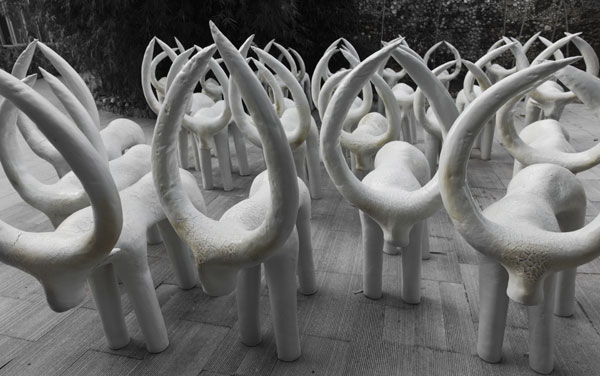 China Bull, by Chinese artist Zhu Legeng, is one of the ceramic installations on display at the National Art Museum of China. [Photo/China Daily]
For thousands of years, ceramic art has been displayed on shelves as pots and vases. But in the post-industrial era, the way it is being presented has changed.
The National Art Museum of China recently invited influential ceramists from Japan, the United States, France and China, to discuss ideas about the future of ceramic art. The ongoing art exhibition consists of three parts: ceramic works from the East, the West and a section on documentary videos recording artists' creative processes.
"Here, four artists share one thing in common-they devote themselves to public ceramic artworks related closely to the space and architecture of an area. It's a future trend to involve artists in designing a city's public space," says show curator Fang Lili.
In the East Hall of the museum stands Chinese artist Zhu Legeng's large ceramic installations called China Bull that shows dozens of bulls in white ceramic, and Heaven Water Mirror that creates the feeling of clouds floating over a red wall. Zhu has applied his works into decorations for museums, hotels, public halls and airports.
Bloom of Life is a three-year project he made for the internal and external decoration of the Wheat Concert Hall in Seoul. One part of the wall for the concert hall made by hundreds of ceramic cups is on display at the current show.
"Modern cities are full of functional constructions. Ceramists should inject an atheistic element into buildings to warm them up," says Zhu, who was taught the craft by his artist father in Jingde-zhen, Jiangxi province, which is considered to be the capital of clay and porcelain in China.
Together with Zhu's works in the East Hall are ceramic squares and irregular objects made by Japanese artist Rokubey Kiyomizu VIII, who inherited the title of Rokubey Kiyomizu from his family of ceramists with more than 240 years of history.