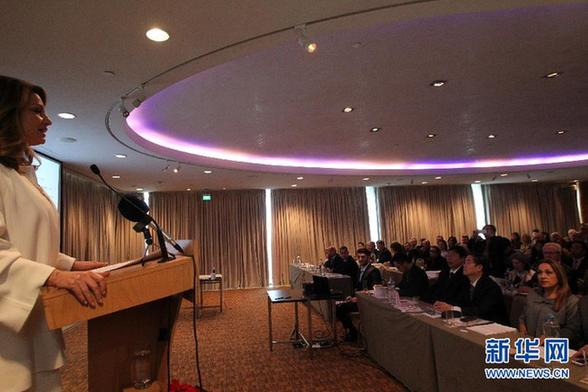 An exhibition of contemporary Chinese porcelain art entitled "The New Silk Road" kicked off in Greece, Dec 15, 2014. [Photo/Xinhua]
For the first time in Greece the Museum of Asian Art at the Ionian Sea island of Corfu hosts over the next six months an impressive exhibition of Contemporary Chinese Porcelain Art entitled "The New Silk Road".
The temporary exhibition which includes 60 masterpieces by 30 artists will be open to visitors from Dec 17, 2014 until May 16, 2015.
The items which will be on display are unique examples of the works of artists representing the Ceramic Institute of Jingdezhen, the famous capital of Chinese porcelain throughout the centuries, as well as the Master Alliance of Art Ceramic in China.
Ahead of the grand opening in Corfu the exhibition was inaugurated on Monday in Athens in the presence of Greek and Chinese officials.
Addressing the ceremony held at an Athens hotel Greek Deputy Minister of Culture Angela Gerekou welcomed with honor and great joy an "unprecedented" cultural event in Greece.
The Greek official expressed confidence that the exhibition held at her homeland Corfu in the context of the new Silk Road will help further strengthen bilateral ties, as the ancient Silk Road helped foster trade, economic and cultural cooperation in the past.
"For us the new Silk Road is extremely significant. It will help deepen our relations. Each cultural event, such as today's event, brings us closer," Gerekou told Xinhua.
She appeared certain that the exhibition will also attract more visitors to the Corfu Asian Art Museum which is regarded as one of the most important of its kind across Europe.