Yearender: 10 'mosts' of arts in 2014
Art this year, became something everyone talks about, not just highbrows any more. From the chicken cup to Van Gogh's painting, rich Chinese rich are showing a robust purchasing power on the art market at home and abroad. Let's have a review of the hot art news that happened in 2014.
1.The most expensive tea cup: Doucai Chenghua "chicken cup" (Ming Dynasty)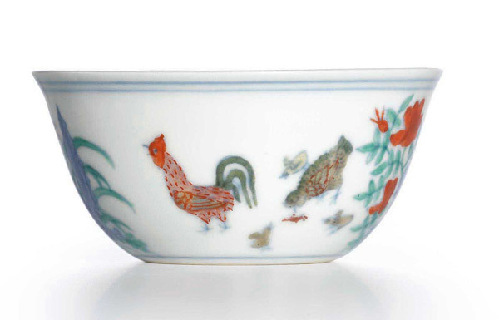 Chenghua chicken cup at auction [Photo provided to China Daily]
Chinese billionaire Liu Yiqian bought the cup at a Sotheby's 2014 Spring Auction on April 8, 2014 for HK$281.24 million ($36 million).
The 8.2-centimeter-wide cup bears the image of a rooster and hen tending to their chicks. An estimated 600 years old, the cup is an example of the peak of ceramic art during the reign of Chenghua (1465-1487).
The cup, which is in pristine condition, was made using the doucai method of fashioning porcelain that began during the Ming Dynasty, and was used for appreciation, not for display. It is commonly known as a "chicken cup" because it is decorated with paintings of chickens.
The cup celebrates the pinnacle of the Chenghua style of porcelain-making from 1465 to 1487 that is renowned for refining the doucai method. Well-preserved examples from that period are rare.
Related:
'Chicken cup' sip has netizens on boil