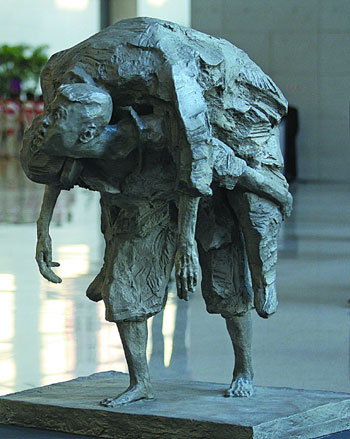 Victims of the 1937 Nanjing Massacre are featured in a sculpture exhibition at the National Museum of China. Twenty-one figures comprise the 10 bronze works.[Photo by Jiang Dong and Wang Zhuangfei/China Daily]
A sculptor with roots in Nanjing creates a statue series to commemorate victims of the 1937 massacre by Japanese soldiers, Deng Zhangyu reports.
To commemorate the Chinese victims of the Nanjing Massacre of 1937, Chinese artist Wu Weishan unveiled a series of sculptures at the Na tional Museum of China on Tuesday - four days ahead of the first national public memorial day for the massacre on Saturday.
A grandmother holding her grandson in her arms, a Buddhist monk closing the eyes of a dead person lying on the ground and a baby feeding on his dying mother's breast are among a series of sculptures titled To Flee. Twenty-one figures comprise the 10 bronze works.
"As an artist and a peace lover, I must do something to remind the world not to repeat history and to value peace," says the 52-year-old, who was designated director of the National Art Museum of China in September.
In February, China announced that Dec 13, the day the six-week massacre began in 1937, will be the national memorial day for the victims, who numbered more than 300,000, according to historians in Nanjing. Activities will be held on Saturday around the country.
Wu's sculpture The Last Drop of Milk portrays a baby lying on his dying mother's chest to nurse, leaving his elder brother sitting a few meters away with tearful eyes full of horror.
It's based on a true story during the slaughter, says Wu. When the sculptor visited the Nanjing Massacre's survivors in 2005, he met the then 79-year-old Chang Zhiqiang, who inspired Wu to make The Last Drop of Milk. Chang is the only survivor of his entire family. The Japanese invaders killed his mother and his little brother.